To begin the story of the Moving Image Archive at the National Library, we have to go back to 1976.
That was the year when the Scottish Film Council was awarded funding through a Government job creation scheme to identify a collection of films held at its premises.
Part of this work included looking for other films recording Scotland's history.
Scottish Screen Archive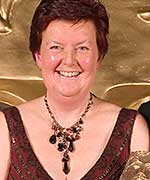 Over the years the Scottish Film Archive continued to develop, under the guidance of Janet McBain, Archive Curator from 1976-2011.
The collection was further enhanced when the Scottish Film Council merged with the Scottish Film Production Fund, Scottish Screen Locations and Scottish Broadcast and Film Training Trust in 1997.
This combined group of organisations became Scottish Screen, and the film collection became known as the 'Scottish Screen Archive'.
An initial grant from the Heritage Lottery Fund allowed 20,000 items to be identified and catalogued.  Further Heritage Lottery funding enabled 400 hours of film to be transferred to accessible formats, providing greater public access to the collections.
Opening up access online
Scottish Screen launched an online moving image catalogue in 2003, with clips and whole films available for people to view for free.
In 2007, the Scottish Screen Archive became part of the National Library of Scotland, following Scottish Screen's merger with the Scottish Arts Council to form Creative Scotland.
Since then, access to moving image has continued to expand. Over 2,300 clips and full-length films in the collection have been digitised and made available to watch via the online catalogue.
In September 2015, the name of the Scottish Screen Archive changed to the 'National Library of Scotland Moving Image Archive'.