Academic research into our collections is always welcome and we are happy to discuss potential research partnerships.
You can view films online or by appointment on site at the Moving Image Archive at the National Library of Scotland at Kelvin Hall.
If you would like to discuss your research or a proposal with us, please contact us using the online enquiry form.
Written archives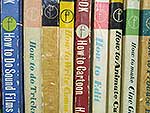 Reference books.
We have a collection of manuscripts, printed material and memorabilia relating to the history of film making and the cinema-going business in Scotland since 1896.
You have to contact us to make an appointment to use these written archives.
Scottish Cine Biographies
Scottish Cine Biographies contains biographical histories of Scottish exhibitors and film-makers, production companies and institutions.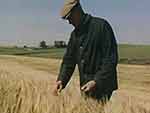 It was researched and compiled by staff of the Moving Image Archive, and by students on placement from Strathclyde University History department between 1998 and 2003.
It is a work in progress, relating to:
Film-makers and production units whose films are preserved in the Moving Image Archive
Individuals in the film exhibition industry whose history is recorded in papers deposited with us
Individuals who have given us an oral history interview on their lives in the cinema trade.
Browse biographies in the Moving Image Archive catalogue
Contact us if you would like to book an appointment to view material, contribute to the biographical information about individuals or film institutions, or use the written archives.