At the National Library of Scotland we can provide you with access to films capturing life in Scotland from the early days of film-making to the present day.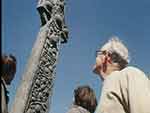 Material in the Moving Image Archive is a valuable resource for private use, learning and research, as well as licensing for commercial and non-commercial purposes, including broadcast and media productions.
You can view, hire or buy footage in a number of ways:
Hire copies from our library
Buy made-to-order DVD copies
Buy DVD compilations
Book our public viewing room free of charge — see 'Arrange a visit'
Request DVD viewing copies to be sent to the National Library of Scotland in Edinburgh.
Please note that not all footage can be copied on to DVD, and copyright restrictions may apply.
Made to order and hire copies
You can buy made-to-order copies of films for both research purposes and personal use. We also offer the option to hire copies of the films.
Many of the titles already exist in our hire library, but if we do not have a copy we can make one.
How to order
Submit the titles and reference number of your chosen films via the Moving Image Archive catalogue
Once we have your order we will confirm the copyright position, the access availability and whether or not we are able to produce a DVD copy
We will reply to your enquiry with a cost and payment options. See the 'Terms and conditions' page for the moving image catalogue for details about payment, delivery, cancellation / refunds, and your rights.
Confirm private viewing
Before supplying a DVD copy, we need confirmation that the copy is for private viewing.
You can do this by either signing the release form we will supply to you or by agreeing to our terms and conditions when you pay online.
Permission to re-use material
You need permission from the Library if you want to re-use moving image material — for example, in a broadcast, media production, or screening.
Please contact the Moving Image Archive team to confirm that the material you want is available for re-use. If the material can be re-used, we will complete a Content licence form for you to read, sign and return. We will also confirm payment options of the relevant permission fees.
Please remember that you may need to obtain permission from any third party copyright holders.
Further details and guidance are available on the 'Permission to re-use material' page.
Quality of copies
A copy will be a direct duplicate of the surviving version of the original material.
Any inherent defects such as scratches, variable exposure, visual blemishes, flicker, interruptions or incompleteness may be present in the duplicate copy.
Additional