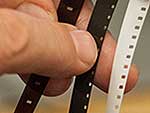 Small gauge film stock.
Acquisition
We add films, videotapes and digital files to the Moving Image Archive largely through voluntary donations and in collaboration with film-makers.
See 'Help us collect' for more details on what we collect and how to donate films to us.
Preservation
Preservation and restoration of the moving image collection is highly specialised.
We keep original master material in specially designed vaults to ensure that they are properly stored and protected in controlled environmental conditions.
Read about two examples of our specialist restoration work.
Cataloguing
Our catalogue is constantly updated, with new additions and corrections made every week
We describe films to international cataloguing standards, with detailed shotlists providing an objective record of each film's contents.
Access
You will find our collections easily available to view and use.
You can watch films in the Moving Image Archive catalogue, hire DVDs or make an appointment to watch films on-site.
Films are available to hire for screenings, and commercial users can license footage for broadcast use. For more information, visit the 'Using footage' page.
We also have DVD compilations for sale which you can buy from our DVD shop. These are a good introduction to our collections. See the 'Using footage' section for more details on how to watch and buy films.
Learning
Our collections provide inspirational learning material for all ages. We actively support learning using film by widening access to our collections through screenings, workshops, educational projects and online resources.
See the 'Learning' section for more details on how we can help you work with our collections to inspire learners.
Additional