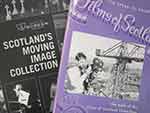 Examples from
the written archives.
In our written archives within the Moving Image Archive collection you will find written, printed and photographic records.
These include oral history interviews relating to the film production industry and cinema exhibition sector in Scotland since 1896.
Cinema industry and memorabilia
We have a wide selection of historical cinema memorabilia at the National Library of Scotland. The collection includes:
Business records from various cinemas
Film programmes
Press cuttings
Photographs
Personal recollections of people who enjoyed a lifelong career in the cinema trade.
Film production archives
The production industry in Scotland was based on a number of small companies.  Among the companies represented in our archive for which surviving administrative records exist are:
Campbell-Harper
Russell Productions
Elder Film Productions.
Films of Scotland Committee
The Films of Scotland Committee (1954-1982) is an extensive collection which includes:
Production files
Documentary scripts
Production stills
Film distribution records
Administrative and financial records of the committee
A complete set of Scotland on the Screen programmes from 1957 to 1970.
Papers from individuals
Jenny Gilbertson
Donald Alexander and Budge Cooper
Ronnie Jay
J Stirling Gillespie.
Public and cultural institutions
Our archives contain records from public and cultural institutions involved in the development of film in Scotland.
Dating back to the 1930s, the records principally relate to the Scottish Film Council and Scottish Educational Film Association.
We also hold some select papers relating to Scottish Screen Short Film Production and Scottish Film Production Fund from the 1990s.
Film societies
You can explore the history of Scotland's amateur cinematographers and the film society movement. This includes the papers of:
The Film Society of Glasgow
Scottish Amateur Film Festival
Dalzell Camcorder Club.
More about the written collections
You can find more information about the Moving Image Archive written collections through the Scottish Archive Network (SCAN):
The reference collection
The Moving Image Archive reference library has books and journals about film history and Scottish film-making.
You can find records of these using Library Search. To consult this material, you need to contact us to make an appointment.