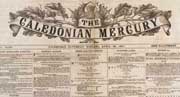 At the National Library of Scotland we hold the earliest newspaper printed in Scotland.
This was 'The heads of severall proceedings in the present Parliament' (Edinburgh, 1641), which reprinted news from London.
Important titles
We have runs of important 18th-century Scottish titles and 19th-century provincial papers, although they are not complete.
Some gaps were filled by microfilms acquired as part of the NEWSPLAN 2000 Project.
All parts of Scotland
We have both printed and microform issues of early newspapers from all parts of the country, ranging from 'The Shetland Journal' (1836) to the 'Ayr and Wigtownshire Courier' (1818).