Some of the early material in the National Library of Scotland's newspapers collection is available online.
With a library card you also read and search the digitised full text of a number of titles. See the 'newspapers' section of our eResources list for digital resources available if you join the Library.
Hundreds of broadsides

Online you can browse and search through hundreds of broadsides in our special feature 'The Word on the Street'.
These forerunners of tabloid newspapers are a popular source of national, local and family information.
Times Digital Archive
A library card gives you full-text access to a small collection of subscribed digital newspaper titles. Of these resources the 'Times Digital Archive 1785 to 1985' is the largest, with over one million pages and more than eight million articles.
You can access these digitised images of 'The Times' newspaper within NLS and from any computer with internet access.
The British Newspaper Archive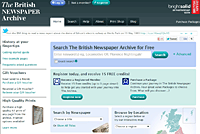 Millions of pages from British newspapers from the 1700s to the 1900s are available online in the British Newspaper Archive.
More than 230 titles are included in this fully searchable resource. Among the 29 Scottish titles are:
Ayr Advertiser
Chartist Circular
Dunfermline Saturday Press
Elgin Courier
Glasgow Herald
Motherwell Times
The Scots Magazine
Stirling Observer.
The newspapers are part of the British Library's collection. From May 2013, with our library card you have unrestricted use of the archive within our reading rooms. Outwith the reading rooms, you have to buy credits to view, print and download articles and pages.
You have to register and create an account to use this archive, but registration is free.
Waterloo Directory of English newspapers and periodicals
Another digital collection, which is available only in our reading rooms, is the 'Waterloo Directory of English newspapers and periodicals: 1800-1900'. This bibliography has details of:
50,000 serial publication
48,000 personal names
4,572 issuing bodies
756 subjects.
Online newspapers
Some Scottish titles are publicly available online. You can access them at Onlinenewspapers.com.
To find out more
For more information about digitised newspaper resources at the National Library, please use our online enquiry service.
Additional