The National Library of Scotland's legal deposit privilege ensures comprehensive coverage of publications from the Westminster and Scottish Parliaments, together with the publications of their respective government departments and agencies.
You can find many Parliamentary publications, both in the Library and as online eResources.
Scottish Parliament
In the Library and in our eResources you can find Scottish Parliamentary documents dating from 1235 to the present day. These include:
Records of the Parliaments of Scotland to 1707: The proceedings of Scottish Parliament from the first surviving act of 1235 to the union of 1707
Acts of Parliament: In accordance with the 1925 National Library of Scotland Act, Acts of Parliament are deposited in the Advocates Library. Users may consult this material when visiting the Library in Edinburgh
Business publications: We have a complete collection of the Scottish Parliament's business publications. Print publications up to 2015 are available to consult within the Library, and digital publications from September 2015 are accessible unrestricted through Library Search. Select 'Advanced Search', change the 'Search Scope' from the default 'Everything' to 'Library collections', and enter 'Scottish Parliament' in the default 'Any field' option. You can then sort the results using the 'Availability' filter to find the 'full text online' items.

 
UK Parliament
We have a comprehensive collection of the publications of the UK Parliament from the early 19th century to the present day, together with extensive holdings of the publications of government departments.
Historical Parliamentary publications online
If you have a Library card, you can access many historical Parliamentary publications through our eResources. Historical Parliamentary eResources available include:
Hansard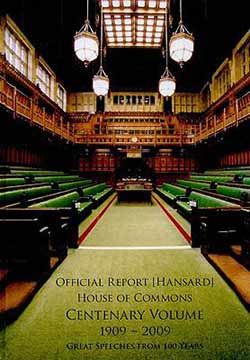 'Hansard'
The Library collects both printed and digital collections of 'Hansard' for both the House of Commons and the House of Lords. The records include:
Written ministerial statements
Answers to Parliamentary questions
Debate transcripts — these are not strictly verbatim, but do have edits for small things such as removal of repetition.
You can find digital 'Hansard' content up to 2005 on the UK Parliamentary papers eResource, or browse the paper collection in the Library.
'Hansard' is a great source of social history — bringing events to life.
House of Lords Journal
Dating from 1509 to the present day, the House of Lords Journal is the Library's oldest still-published periodical. It records House of Lords proceedings.
House of Lords digitisation project
The House of Lords digitisation project is a partnership between ProQuest, the House of Lords, and the National Library of Scotland. Dating from 1806 to 1911, our collection of 19th century House of Lords papers is one of the very few surviving copies.
Made up of 3,000 historic volumes, every page is digitised, to make the content widely available, and protect the original papers. You can access the UK Parliamentary Papers database — that includes the House of Lords digitised material — if you are a member of the Library.