We have many examples of Advocates Library shelfmarks, book stamps and inscriptions, dating from the 1680s to the 1920s.
Advocates Library history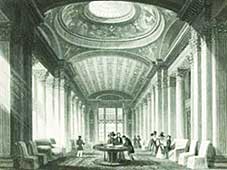 Interior of old Advocates Library,
now the Signet Library, 1831.
From its formal opening in 1689, the Advocates Library in Edinburgh rapidly developed into the finest library in Scotland. Following the introduction of the Library's legal deposit privilege in 1710, its book collection grew at an ever-increasing rate.
The Advocates Library gradually came to be seen as Scotland's national library in all but name. In 1925, an Act of Parliament formally established the National Library of Scoland. The Faculty of Advocates then gifted its collection — with the exception of legal material — to the country.
Organising the collections with shelfmarks
The Faculty of Advocates had been collecting books since at least 1683, previous to the Library's formal opening in 1689. At this time, a manuscript catalogue listed 435 books. Over the years, collections have been housed in different rooms and buildings surrounding Edinburgh's courts. This included what is now the Signet Library, and the cells below the courts.
Like most large libraries, the Faculty used shelfmarks to record the location of books. Standard shelfmarks identified each book's 'press' (bookcase), shelf, and its exact position on the shelf.
Marking ownership with book stamps and inscriptions
Over the years, the Advocates Library marked ownership of its books in several distinct ways. The 'Ex Libris' style first used by James Nasmith in 1684 has remained remarkably consistent over the centuries. This is despite changes in curators, handwriting and the introduction of stamps in the 19th century.
For more information see:
Further reading
Brown, I G. 'Building for Books: the architectural evolution of the Advocates' Library 1689-1925'. (Aberdeen, 1989). [NLS shelfmark: Hist.S.83.B2]
Cadell, P and Matheson, A (eds.) 'For the encouragement of learning: Scotland's national library 1689-1989'. (Edinburgh, 1989). [NLS shelfmark: Hist.S.83.c]
Townley, M. 'The best and fynest lawers and other raire bookes: a facsimile of the earliest list of books in the Advocates' Library, Edinburgh with an introduction and modern catalogue'. (Edinburgh, 1990). [NLS shelfmark: NRR (2.2 Adv)]