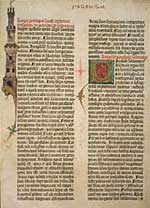 At the heart of our rare books collections is Scottish material:
We also have rich special collections. The subjects they cover range from witchcraft to the French Revolution, from beekeeping to Esperanto, and from the Reformation to cookbooks.
We provide access to about one million books. Many of these are original printed volumes dating from 1455 to the present day.
In addition we have microfilms and digital images of originals kept in other libraries. Our collections also include other material:
Records for most of these items are in Library Search. You can consult the books in the reading rooms in the Library's building on George IV Bridge.
Additional