The Advocates Library began to acquire photographs in the 1840s. The National Library of Scotland has subsequently acquired a miscellaneous and extensive collection, generally scattered throughout both the printed and manuscript collections. Some are gathered together at the shelfmark 'Phot.'
Earliest art historical book with photos
William Stirling's 'Annals of the Artists of Spain' (London, 1848, shelfmark: H.10.a.12-15), the earliest art historical book illustrated with photographs, was presented by the author to the Advocates Library on publication in 1848.
The copy at the National Library is one of 25 copies with extra plates, taken by an assistant of William Henry Fox Talbot, who was the founder of modern photography.
Rare and unusual books with photos
The greatest strengths lie in the collections of early photographically illustrated books, many of which were acquired through the legal deposit privilege.
These include Nasmyth and Carpenter's photographs in 'The Moon: Considered as a Planet, a World, and a Satellite' (London, 1874, shelfmark: Phot.med.8) and Peter Henry Emerson's 'Life and landscape on the Norfolk Broads' (London, 1889, shelfmark: Phot.med.34).
An unusual item is 'A handbook of Greek and Roman lacing' (London, 1869, shelfmark: Phot.sm.45) illustrated with cyanotypes taken by Sir John Herschel, who invented this process. This is a rare copy of the first edition of this book, annotated by the author, Julie Herschel, Sir John's daughter.
Prints by early British photographers
Aside from this material the Library also has strong holdings of early British photography, especially the work of Scottish photographers, including:
Over 100 salt-prints by David Octavius Hill and Robert Adamson
William Carrick's photographs taken in Russia
The work of John Thomson in the Far East from 1862 to 1873
Telling pictures of urban life by Thomas Annan, Archibald Burns and Alfred Henry Rushbrook.
For further information on these, see 'Highlights from the photograph collections'.
Scottish photographers and photographs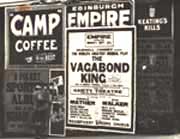 The Library continues to acquire selectively the works of Scottish photographers and other notable photographs of Scottish interest. This policy has been developed in close collaboration with the National Galleries of Scotland.
Notable acquisitions include:
A copy of William Henry Fox Talbot's 'Sun Pictures in Scotland' (London, 1845, shelfmark: Phot.med.27) given by the photographer to the Marquis of Lansdowne
A group of albums from the collection of James Bruce, 8th Earl of Elgin, Viceroy of India, purchased with the aid of the Heritage Lottery Fund and the National Art Collections Fund.
In December 2001, the Library acquired a previously undocumented album of the Edinburgh Calotype Club, dating from the 1840s. This was bought in conjunction with Edinburgh City Council and with the support of the Heritage Lottery Fund, the National Art Collections Fund and the Gordon Fraser Charitable Trust.
Mountaineering and polar exploration
The Library's interest in works relating to mountaineering and polar exploration are also represented by photographs. Of particular note are:
Substantial holdings of the work of the English photographer Samuel Bourne in the Himalayas
Substantial holdings of the work of the Italian photographer Vittorio Sella in the Alps
The photographic archive of the American mountaineer Fanny Bullock Workman.
These collections are supported by Scotland's largest holdings of modern works on the literature of photography.
Further reading
Coe, Brian and Haworth-Booth, Mark. 'A guide to early photographic processes.' London: Victoria & Albert Museum, 1983. (Shelfmark: GME.3)
Gernsheim, Helmut. 'The history of photography from the camera obscura to the beginning of the modern era.' London: Thames & Hudson, 1969. (S8.96.711)
Hannavy, John.'A moment in time: Scottish contributions to photography 1840-1920.' Glasgow: Third Eye Centre, 1983. (HP3.83.413)
Ovenden, Richard. 'John Thomson (1837-1921): photographer.' Edinburgh: National Library of Scotland, 1997. (GNE.1997.4.1)
Stevenson, Sara and Forbes, Duncan. 'A companion guide to photography in the National Galleries of Scotland.' Edinburgh: National Galleries of Scotland, 2001. (GMN.2002.1.1)
Stevenson, Sara and Morrison-Low, A D. 'Scottish photography a bibliography: 1839-1989.' Edinburgh: Salvia Books, 1990. (SU.18)
Websites