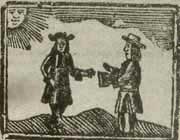 Chapbooks are small paper-covered booklets, usually printed on a single sheet or portion of a sheet, folded into books of 8, 12, 16 and 24 pages, often illustrated with crude woodcuts.
They were in circulation from the 17th to the 19th centuries, sold by travelling hawkers, pedlars, street-criers or 'chapmen' for a penny or less on the streets and at markets and fairs.
The word 'chapman' is related to the word 'cheap', but it is probably also related to the Anglo-Saxon 'ceapian', meaning to barter, buy and sell.
Cheaply produced
The quality of paper used was invariably coarse. Chapbook printers frequently employed worn and broken type and it was not uncommon for the illustrations to bear no relation to the text.

Chapbooks, along with broadsides, comprised the staple reading matter of the 'common people' in an age well before the arrival of harbingers of modernity such as the telegraph, the train, the telephone and the mechanised printing press.
Broad range of subjects
The subject matter of chapbooks was quite broad — sermons of covenanting ministers, prophecies, last words of murderers, songs and poems by Robert Burns and Allan Ramsay, and biographies of famous people such as Wallace, Napoleon and Nelson. There were romances and legends, not to mention manuals of instruction and almanacs.
One of the features of this type of publication is the proliferation of provincial imprints — chapbooks were printed in places such as Fintray, Newton Stewart and Inveraray, as well as Edinburgh, Falkirk and Glasgow.
Chapbooks for children
Chapbooks were read, or perhaps more accurately, read out to people of all ages, though few publishers catered specifically for children.
James Lumsden of Glasgow was an exception — he produced good quality chapbooks for children in the early 19th century.
Reasons for decline
Chapbooks gradually disappeared from the 1860s onwards.
This was not only because of the explosion in the amount of cheap printed matter available, but also due to strong competition from religious tract societies such as the Stirling Tract Enterprise which regarded many chapbook publications as 'ungodly'.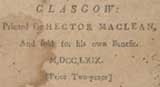 Our large collection
At the National Library of Scotland we hold a large collection of Scottish chapbooks, approximately 4,000 of an estimated total of 15,000 published.
Over 2,600 of these are in the Lauriston Castle Collection and are listed (arranged by title) in the printed 'Catalogue of the Lauriston Castle chapbooks'. A copy is available at shelfmark SU.37 (2.3 Lau). This catalogue also lists chapbooks from England — notably Newcastle, York, Penrith and London — and Ireland.
They are also dispersed throughout the collections and the Library acquires Scottish chapbooks when the opportunity arises.
Searching the catalogue
You can access records for Scottish chapbooks in Library Search by selecting the 'Advanced Search' option, selecting 'Subject' instead of the default 'Any field', and then entering the term 'Chapbooks-Scotland'. You can also find records for Scottish chapbooks in Library Search by using the 'Browse by shelfmark' option on shelfmarks in the range L.C.2716-L.C. 3193.
Further reading
Fairley, John. 'Dougal Graham skellat bellman of Glasgow and his chapbooks'. Hawick, 1909 (Shelfmark: Birk.242(9))
Gilbert, Suzanne. 'William Harvey and the Scottish chapbooks' in 'Scottish Studies Review', vol.5, no.1, Spring 2004. Glasgow: Association for Scottish Literary Studies, 2004 (HJ3.2115 SER)
Harvey, William. 'Scottish chapbook literature'. New York: Burt Franklin, 1971 (reprint of 1903 Paisley edition) (SU.37 (shelved at D.9.1. Har))
McKay, Barry. 'An introduction to chapbooks'. Oldham: Incline Press, 2003 (FB.s.842)
Morris, John. 'Scottish ballads and chapbooks' in 'Images & texts: Their production and distribution in the 18th and 19th centuries', (ed. Issac, Peter and McKay, Barry). Winchester: St Paul's Bibliographies, 1997 (H2.98.111)
Neuburg, Victor. 'Popular literature: A history and guide from the beginning of printing to the year 1897'. Harmondsworth: Penguin, 1977 (HP1.90.983)
Roscoe, S and R A Brimmell. 'James Lumsden & Son of Glasgow: Their juvenile books and chapbooks'. Pinner, Middlesex: Private Libraries Association, 1971 (H4.86.99)
Shepard, Leslie. 'The history of street literature'. Newton Abbot: David & Charles, 1973 (NE.1011.f.25)
Websites