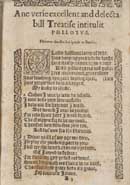 The National Library of Scotland has a fine collection of early plays.
Included are copies of two of the few surviving examples of 16th- and 17th-century Scottish plays:
David Lindsay's 'Satyre of the Thrie Estaitis', probably first performed in 1540
The anonymous 'Philotus' (1603).
Shakespeare
The Bute Collection has substantial holdings of early English drama, including 39 Shakespeare quartos.
We also have a copy of the first folio of Shakespeare's works (1623), albeit slightly imperfect (shelfmark: F.7.e.20).
Scottish theatre from the 18th century
The later revival of the theatre in Scotland is well represented, starting with copies of John Home's 'Douglas' (1757), which caused uproar when it was performed in Edinburgh in 1756.
Theatre Royal, Edinburgh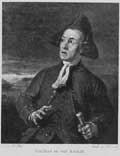 The Library has a good run of playbills advertising performances at Edinburgh's Theatre Royal, where the national drama flourished in the early 19th century. You can see a selection of these in our playbills website.
A volume of pamphlets (RB.l.46) contains debates over the opening and management of this theatre.
Adaptations of novels by Sir Walter Scott form a central part of the 19th century repertoire, and our holdings were extensively used for H P Bolton's book 'Scott Dramatized' (London: Mansell, 1992).
In 1986 Professor Bolton gifted to the Library a printout of the data he keyboarded here: 'Plays from Sir Walter Scott's Narrative Poems and Novels for which Playbills exist in the National Library of Scotland' (H8.86.646).
Playbills and programmes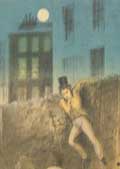 There are an estimated 10,000 playbills and programmes in the general collections for theatres throughout Scotland.
Only some of them are recorded in Library Search. However, our Scottish Theatre Programmes database provides access to over 4,300 records for some of the programmes, playbills and posters held by the Library.
We do purchase early playbills and theatre literature with a Scottish connection, and all such acquisitions will be described in the main catalogue.
For the later 19th century, especially 1870-1900, the Weir Collection of posters, books, cuttings and photographs is a major resource. Most of the items in this collection are described in a sheaf catalogue. View posters and photos from the Weir collection
There are also playbills in the Martin Collection, and also extensive theatre holdings in the manuscript collections.
Further reading
'Shakespeare: An exhibition of printed books.' Edinburgh, 1964 (shelfmark: GNE.6)