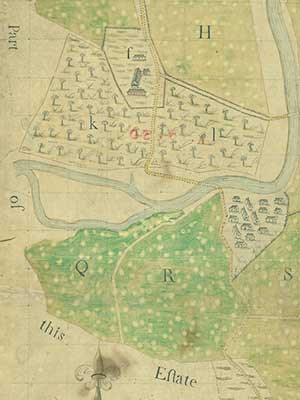 Detail from a plan of North-Hall Estate
in Jamaica, owned by Scotsman William
Chisholm [Library shelfmark: CH.5650].
Enslaved people wrote very little of the contemporary material concerning Scotland and slavery. Almost exclusively, it was written by enslavers.
Anyone interested in understanding enslaved people's lives needs to examine the available sources carefully, reading between the lines of the material they consult.
By unpicking the narratives written by their enslavers, enslaved people's lives can become more visible.
Dehumanising labour
The labour that enslaved people performed included preparing fields for crops to be planted, harvesting plants and then processing them into consumer goods like sugar.
These tasks were physically gruelling, dehumanising and relentless. They also required specific knowledge and skills, including how to boil sugar. The plan of North Hall estate, which is pictured on this page, shows the layout of a plantation in Jamaica.
In 'An Essay on the Treatment and Conversion of African Slaves', Scottish abolitionist the Rev James Ramsay (1733-1789) wrote about his experiences on the island of St Kitts, including his observations of the difficult work carried out by enslaved people.
Discipline and amelioration
Slaveowners and overseers enforced the system of chattel slavery through violence, including corporal punishment, overwork and malnutrition. Combined with disease, this brutal regime contributed to the high death rates experienced by enslaved people. Papers in National Library of Scotland's collections show the measures taken by enslavers to manage their plantations and control, discipline and punish the people they had enslaved. 
For example, the letters of James Chisholme (1744-1812) include his demand that the overseer at Trout Hall estate impose harsh punishment on an enslaved man known as Bricklayer Tom. Precisely why this man was being punished is unclear, but the mentions of his behaviour in these letters indicates that punishment and resistance were a part of plantation life.
Other letters show that Chisholme sent clothes for enslaved women of childbearing age, along with a set of his own clothes to be given to someone his overseer considered well-behaved. Clothing enslaved people was part of a wider effort to increase the enslaved population and maximise the efficiency of plantations.
The efforts undertaken by enslavers to improve some of the conditions experienced by enslaved people — while keeping them enslaved — was known as amelioration.
The Chisholme Papers at the Library concern the family's estates in the Scottish Borders and Jamaica.
Olaudah Equiano's story
The Library holds a small number of life stories published by formerly enslaved people in the 18th and 19th centuries. First published in 1789, Olaudah Equiano's 'Interesting Narrative' offers an account of how he was enslaved in Africa and taken to the Caribbean. He toured Scotland to promote the book, which allowed ordinary people across the country to engage with Equiano in person.
Equiano's memoir played an important role in the campaign to abolish the slave trade.
Collection item references
References to secondary sources
'Equiano, the African: Biography of a Self-made Man', by Vincent Carretta (Athens: University of Georgia Press, 2005).