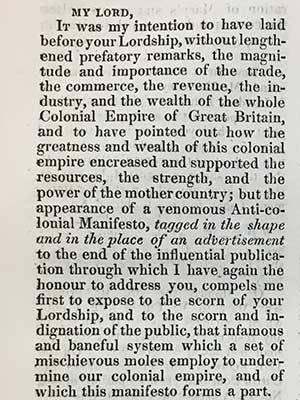 Detail from a proslavery article by James
MacQueen, published in 'Blackwood's
Edinburgh Magazine', November 1831
[Library shelfmark: NJ.322/2-NJ.323/2].
In the 18th and 19th centuries, not all Scots supported the abolition of the slave trade and slavery.
As the first major abolitionist campaign reached its conclusion in 1791-1792, proslavery writers used newspapers to argue against abolitionism. They wrote letters under assumed names to attack abolitionists. Examples of proslavery writing during this period are contained in the 'Glasgow Courier'.
Proslavery responses
Proslavery writers suggested that abolition would bring financial ruin for Britons with investments in the Caribbean. They used racist arguments to portray enslaved people as unready for freedom.
There were fears that abolition threatened the security of the British Empire, especially in light of the Haitian Revolution in 1791 and other uprisings of enslaved people in the Caribbean.
Beginning in 1823, renewed abolitionist activity provoked a response from a new set of proslavery writers. They used newspapers and periodicals like 'Blackwood's Edinburgh Magazine' to spread their views.
Periodicals became popular during the first part of the 19th century. The best known titles like 'Blackwood's' had thousands of subscribers. Periodicals published book reviews, short stories, poetry and political essays, including articles about slavery.
James MacQueen
One of the most notorious proslavery writers in 'Blackwood's' was James MacQueen (1778-1870).
MacQueen had been an overseer on Westerhall estate in Grenada. When he returned to Scotland, he became involved with the Glasgow West India Association — an organisation founded in 1807 to protect the interests of Glasgow businessmen with ties to the Caribbean. He also edited the 'Glasgow Courier'.
He was considered so useful to the proslavery cause that the association gifted him money for his efforts.
MacQueen had a lengthy relationship with the 'Blackwood's' editor, William Blackwood (1776-1834). In his 'Blackwood's' articles, which take the form of open letters to leading politicians of the day, MacQueen warned that the abolition of slavery threatened to destroy the entire British Empire.
His proslavery writing became increasingly forceful. Eventually, he was sued for libel by the abolitionist Thomas Pringle (1789-1834) after MacQueen used a 'Blackwood's' article to attack Pringle and the formerly enslaved woman Mary Prince (around 1788 to after 1833). Prince was the author of an important abolitionist autobiography (edited by Pringle), 'The History of Mary Prince'.
Unsuccessful
Proslavery Scots failed in their efforts when slavery was legally abolished in 1834. Ultimately, they were a small and unsuccessful group.
However, they are an important reminder that some Scots wanted to retain slavery.
Collection item references