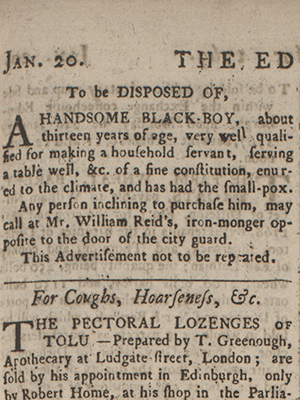 Advert for 'sale of a slave' from the
'Edinburgh Advertiser', 20 January 1769
[Library shelfmark: GIVB.2/56(1-3)].
While black people lived in Scotland prior to the 18th century, Scottish involvement in the Atlantic slave trade resulted in enslaved and formerly enslaved people living in Scotland.
This aspect of Scotland's historic ties to slavery serves as a reminder of the presence of Black people in Scotland in the 18th century and beyond.
Newspapers provide confirmation that enslaved people lived in Scotland. This evidence takes the form of advertisements offering rewards for the recapture of fugitives from slavery and enslaved people who sought freedom by leaving their enslavers.
This kind of advert was placed in Scottish newspapers as early as 1719. Enslavers continued to place such adverts until the late 1770s. Another advert, placed in the 'Edinburgh Advertiser' on 20 January 1769, offers a 13-year-old enslaved boy for sale.
Formerly enslaved people in Scotland
Similarly, formerly enslaved people lived in Scotland.
Letters in the National Library of Scotland's collections show that an enslaved child named James Innes Jr (active around 1792 to around 1804) was manumitted — released from slavery — and travelled from Jamaica to Shetland in the 1790s after his father's death. Innes' father, also named James (1747-1798), was a Shetlander and his mother was an enslaved woman.
Innes Jr's freedom from slavery and his passage to Shetland were paid for by the sale of other enslaved people whom his father had claimed as his property.
None of the letters address James' feelings about being sent from Jamaica to Shetland.
The Joseph Knight case: A milestone
The legal case concerning Joseph Knight (active 1769-1778) was an important milestone regarding the status of enslaved people in Scotland.
Knight had been purchased by John Wedderburn (1729-1803) in Jamaica, who then took him to Scotland. Knight went to court to argue that he should be freed from any obligations to carry out labour for Wedderburn after his arrival in Scotland.
In 1778, Court of Session judges ruled that slavery was incompatible with Scots Law. This ruling meant Knight could not be made to carry out tasks for Wedderburn or be taken back to Jamaica against his will.
Knight's legal case provided the source material for the novel 'Joseph Knight', written by the Scottish writer James Robertson (born 1958). Robertson's novel, which was published in 2003, shows that Scotland's historic relationship to slavery remains a topic of discussion in the present day.
Collection item references