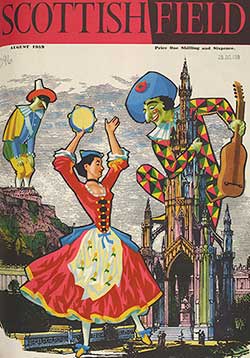 The August 1959 issue of
'Scottish Field' magazine featured
the Edinburgh International
Festival.
Material in the Edinburgh International Festival archive at the National Library of Scotland dates back to the establishment of the festival in 1947. 
As well as programmes and publicity items, we hold Edinburgh Festival Society reports, material on the history of the festival, and a great photograph collection. 
Two of the Edinburgh Festival's past official photographers are particularly well represented in the collection:
Sean Hudson (1935-1997)
Paul Shillabeer (fl. 1948-1973).
Contact the Archives and Manuscript team to find out more.
On film
The Edinburgh Festival is also represented in the Moving Image Archive. Footage available on the Moving Image Archive catalogue includes:
Some moving image material can only be viewed by appointment at our premises in Kelvin Hall, Glasgow. To find out if footage is available to view, contact the Moving Image Archive.
See also: 'Theatre' in the Moving Image Archive
The Fringe
We have a large collection of ephemera relating to the Edinburgh Festival Fringe, including leaflets, flyers, posters, programmes and tickets from 1961 to the present day. 
'The Fringe' was as series of 'unofficial' events during the first Festival in 1947 and beyond, and we have small amounts of material for these events. We organise Fringe material dated before 1961 in the collection according to venue. 
In 1959 the Edinburgh Festival Fringe Society was established as an official organisation. Our collection of Fringe ephemera dates from 1961. 
The collections also have many serials relating to the festivals, with previews and reviews, such as 'Three weeks' and 'Fest'.
Library Search
Use Library Search to find details of printed festival material we hold, changing the drop down box from 'Everything' to 'Library collections'. If you include the phrase 'Edinburgh Festival' in quote marks, you will get exact matches in your results.