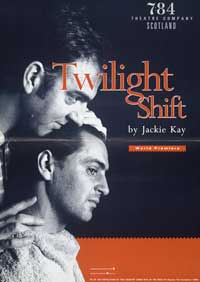 Poster for 'Twilight shift'
by Jackie Kay, from the
7:84 Scotland archive at NLS.
This guide gives an overview of lesbian, gay, bisexual and transgender (LGBT) material available in the National Library of Scotland's collections and elsewhere.
Our list is not comprehensive, and if you know of other collections or resources that researchers could find useful we would be interested to hear about them. Please email the details to manuscripts@nls.uk.
National Library of Scotland
Research resources include:
OurStory Scotland Collection: LGBT oral history recordings and personal testimonies collected by OurStory Scotland are part of our Archives and Manuscript Collections, and video recordings are contained in the Moving Image Archive. If you wish to find out more about this collection, please email manuscripts@nls.uk.
Archives relating to LGBT activism, including the papers of:
Literary and personal papers of Scottish writers including:

Edwin Morgan [MSS.27493-27494, Acc. 8848 and Acc. 12948]
Chris Whyte [Acc.11654 (PDF) (3 pages; 80 KB), Acc.12673 and Acc. 13271]
Florence Russell [Acc.10639 (PDF) (3 pages; 36 KB)]
Fred Urquhart [MSS.26992-26997 and Acc.13052]
John Gray and Marc-André Raffalovich (the Gray and Raffalovich papers) [Dep.372 (PDF) (4 pages; 73 KB)]

Other collections that may be of interest:

Robert Boothby papers [Acc. 12929]
The volume of letters of Lord Alfred Douglas [MS.9925]

Archives of the Traverse and 7:84 Scotland theatre companies, which have consistently addressed LGBT issues in their productions
Records of the Scottish Council on Civil Liberties and the Scottish Human Rights Centre [Acc. 12971 and 12972]
Papers of consultant in psychological medicine William Ronald Dodds Fairbairn [Acc. 11258/95, 99 (xvi), 120 and 144].
Published on the National Library of Scotland Blog:
Modern printed books and periodicals
We aim to collect all Scottish, most UK, and much significant non-UK published material of LGBT interest, all accessible through Library Search.
Works by LGBT novelists, poets, and dramatists
Works by and about LGBT figures of all periods
Academic and popular works on LGBT themes
Periodicals such as 'Gay Scotland', 'Pulse', 'Pride Scotland News', 'GM8', 'Scots Scene' and many others.
Other sources
National Records of Scotland:

Records of LGBT organisations such as Outright Scotland

OurStory Scotland collection in the Scottish Life Archive at National Museums Scotland — artworks and handwritten episodes from LGBT life stories collected by OurStory Scotland.
OurStory Scotland collection at the Mitchell Library, Glasgow — documents pertaining to OurStory Scotland as a Scottish charity, its background and origins, establishment, organisation, publications and events. The collection also includes Scottish LGBT magazines donated to OurStory Scotland.
'Rainbow City' at the People's Story Museum, Edinburgh — principally collected 2004-2006 by the 'Remember When' project of the Living Memory Association
Collections relating to prominent LGBT individuals, such as: