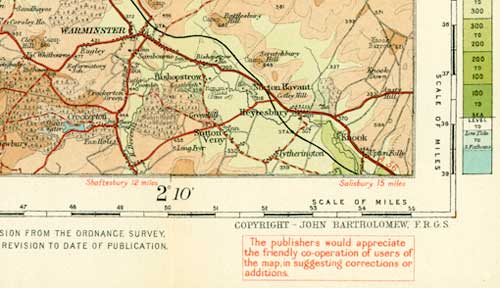 Detail from a half inch map of Bristol and Bath.
'The publishers would appreciate the friendly co-operation of users of the map in suggesting corrections or additions.'
This note printed on the Bath and Bristol 'half inch to the mile' map, dating from 1922, tells us something about the interaction Bartholomew had with users of its maps.
Cyclist's Touring Club
The firm had a particularly good relationship with the Cyclist's Touring Club (CTC), founded in Britain in 1878.
In 1898 John George Bartholomew wrote to the CTC's secretary proposing that club members supplied the firm with up-to-date information. In return, Bartholomew provided the CTC with discounted half-inch maps.
By this time CTC members numbered nearly 60.500. Cyclists responded to the request to such an extent that Bartholomew began adding the CTC's logo to the bottom of maps like the one shown here.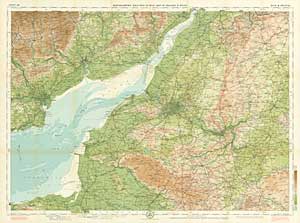 Some information arrived marked on maps, but most of it arrived via letters. The draughtsmen then updated Bartholomew's maps using the details the cyclists supplied.
Maps updated accurately
The accuracy of this information gave Bartholomew the advantage over their competitors. As a result, Bartholomew dominated the market for touring maps like the half-inch series.
Their 'Reduced survey for tourists and cyclists' maps were among the most popular that the firm produced, because they were inexpensive, easy to use and regularly updated.
Half-inch series maps featured in the Bartholomew exhibition, which ran at the National Library of Scotland from 7 December 2012 to 7 May 2013.