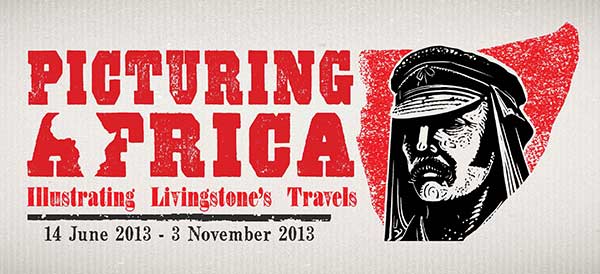 Iconic images of Africa were created from sketches, photographs and notes made during David Livingstone's 19th century expeditions. Our exhibition uncovered the challenges faced on those travels and the impact the illustrations had once they were published. Ran from 14 June to 3 November 2013.

Exhibition audio tour
David Livingstone's Africa was a place of natural wonders and exotic wildlife, of diverse cultures and great ambitions.
By contrast, the personal story of the Scots explorer and missionary is one of danger, suffering and tragedy, as well as ambition, success and heroism.
Illustrations and the men behind them
'Picturing Africa' is more than just an exhibition marking the bicentenary of Livingstone's birth in Lanarkshire.
It is a study and celebration of how the numerous and lavish illustrations in his books were created in Britain by artists and engravers from notes, sketches and photographs made in Africa.
The exhibition also tells the stories of some of Livingstone's occasional companions, in particular the artist Thomas Baines and the photographer John Kirk.
And it gives us an ideal opportunity to highlight the significant and varied collections at the National Library of Scotland that relate to Scotland's renowned explorer.
Enduring images of Africa
Livingstone's text and illustrations from his travels went on to be reprinted in newspapers and biographies making him one of the most famous men of Victorian Britain.
After his death Livingstone continued to be a frequent subject for authors, and he featured often in 19th-century magic lantern shows and later in a number of 20th-century films.
One result of this fascination is that the picture of Africa which Livingstone and his companions created has endured to this day. 
Some of the most powerful illustrations Livingstone helped create included the awe inspiring Victoria Falls, as well as the horrors of the slave trade and the tragedy of his own wife's death.
Original items on show
Exhibits from NLS and elsewhere help paint a vivid picture of the experiences of the men recording the remarkable sights they witnessed under African skies. They also give us a sense of the effect the published illustrations had on a public hungry for details of the 'dark continent'.
Highlights include:
An extremely rare stereoscopic photo of African women grinding corn that was taken around 1860 by David Livingstone's brother, Charles, who was the first expedition's official photographer. This is one of only two of Charles's photos that are known to survive.
Watercolour sketches and photos by John Kirk
Watercolours by Thomas Baines, on loan from Mrs D Harryhausen
A sketch of Victoria Falls by David Livingstone, on loan from the Royal Geographical Society
Livingstone's field diaries, used on his African expeditions
Highly detailed and annotated maps used by Livingstone and, on loan from the David Livingstone Centre, his mapping equipment
Books showing how Africa was perceived before Livingstone went there
Books relating to Livingstone's encounter with a lion — an incident he found rather embarrassing, but which has produced probably the most enduring image of him
The manuscripts for 'Missionary travels' and 'Expedition to the Zambesi', along with correspondence with the books' publisher, John Murray
The portrait of Livingstone that was used for the engraving published in 'Missionary travels', on loan from John Murray VII.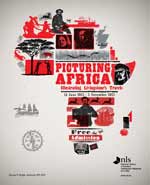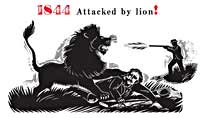 NLS exhibition and poster
images are by Iain McIntosh.