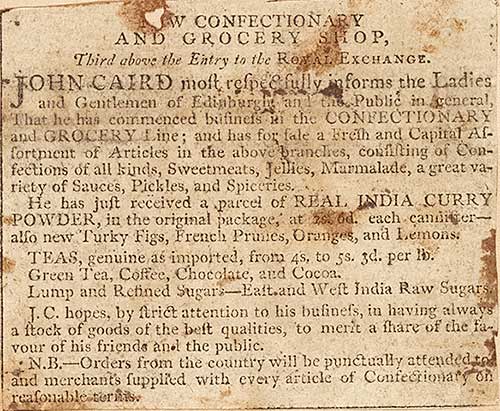 John Caird's curry powder advertisement from 1798.
In 1798, grocer John Caird placed this advertisement for 'Real India curry powder' in the 'Edinburgh Evening Courant'.
Curry — an 18th-century novelty
Curry is now one of Scotland's most popular types of food, but when it first arrived in Scotland, curry was a delicacy too expensive for ordinary people.
The first Indian recipes appeared in Scottish recipe books from the late 18th century.
Many well-travelled Scots brought curry-based recipes back from trips to London or even India, including the Barkly of Mount Eagle family from Ross and Cromarty. Their 1820s recipe book contains recipes for chicken curry, curried soups and curry powder.
This curry powder advert was on show in 'Lifting the lid', our exhibition on Scotland's food history, which ran at the National Library from 12 June to 8 November 2015.