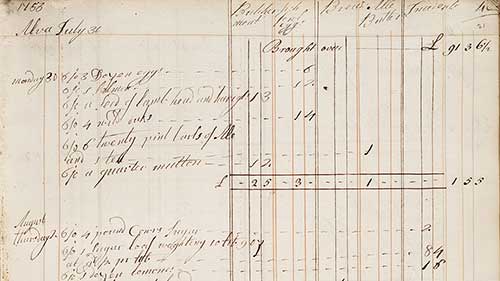 Mrs Dudgeon's account book, 1752-1755.
Mary Dudgeon was housekeeper to James Erskine, an Edinburgh lawyer. From 1752 to 1755, Mary recorded her daily spending in the household account book — for both their Edinburgh home and their country house at Alva.
This record gives us a glimpse into the eating habits of an upper-class 18th century home, showing purchases from shops, street traders and deliverymen.
Daily life of the upper classes
Account books of large Scottish houses provide an insight into the daily lives and culinary fashions of the upper classes.
Household accounts were kept by senior male staff such as the steward in aristocratic households. The gentry might employ a woman as housekeeper.
Household accounts were on display in 'Lifting the lid', our exhibition on Scotland's food history, which ran at the National Library from 12 June to 8 November 2015.