This exhibition presented photographs by Professor Kiyonori Kanasaka of Kyoto taken in the footsteps of 19th-century author, traveller and photographer Isabella Bird. It ran from 28 October to 27 November 2005.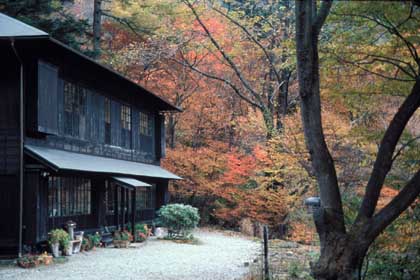 English Villa at Lake Chuzenji, Japan, where Isabella Bird
stayed in the 1890s. Photo © Kiyonori Kanasaka
Over the course of 10 years from 1994, a Japanese professor of geography travelled across several continents in the footsteps of a courageous Victorian female writer and explorer.
Kiyonori Kanasaka retraced routes taken by Isabella Bird, photographing the remote areas visited by a remarkable adventurer who was one of the most famous women in 19th-century Britain.
On display at the Library until 27 November are a selection of Professor Kanasaka's striking images, being shown in the UK for the first time.
Depicted are scenes from:
Scotland, England and Ireland
Morocco, Turkey and Egypt
Iran (formerly Persia)
China, Japan and Korea
USA.

Li-Pan Ting
by Kanasaka

Li-Pan Ting,
China, by Bird
Alongside these are a few reproductions of pictures taken by Isabella herself, who discovered photography in 1892 and made good use of it during the three-year visit to East Asia she began in 1894.
Isabella Bird

Although born in England, Isabella Bird (1831-1904) lived in apparent ill-health in Edinburgh for much of her life.
Once she began a foreign expedition, however, this middle-class 'invalid' transformed into an intrepid and determined explorer, who overcame dangers and hardships and thrived on the excitement of it all. At times she was even involved in the 'Great Game' of international diplomacy and espionage.
Her first overseas trip was to the USA in the 1850s, but it wasn't until 20 years later, when she was aged 40, that her adventures abroad really began. Her last expedition was to Morocco in her 70th year.
Bird's perceptive accounts of her travels — described as 'racy and informed' — were mostly published by London-based John Murray, and her books often brought public praise.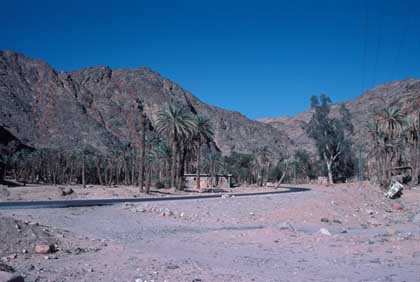 Feiran Wadi, Sinai Peninsula, Egypt.
Photo © Kiyonori Kanasaka
Some of the books can be seen at our exhibition, together with one of her letters from the John Murray Archive.
Kiyonori Kanasaka
Kiyonori Kanasaka is Professor of Geography at Japan's Kyoto University. He is also an author, and has donated his translations of Isabella Bird's travel books to the National Library of Scotland.

Part of the 2005 EU-Japan Year of People to People Exchanges programme.