Items from our collections were on show to mark the centenary of the birth of Jessie Kesson, an important 20th-century Scottish writer. From 22 September to 25 November 2016.
'I've never felt I would write the great big novel. I've aye wanted to write the sma' perfect!'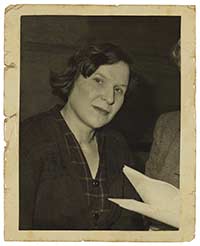 Jessie Kesson.
Manuscripts, books and letters from Jessie Kesson's literary archive were on display at the National Library of Scotland, in celebration of the writer's life and work.
Inverness-born Kesson (1916-1994) was a novelist, playwright and radio producer who often wrote in her native Scots.
Her writings include the novels 'The white bird passes' (1958) and the novel and film 'Another time, another place' (1983).
Kesson's life

Kesson had a difficult start in life, born in a workhouse and spending some of her childhood in an orphanage. She had many different jobs, from farm worker and life model to social worker and BBC radio producer. Above all, however, she was a writer.
Read more about Jessie Kesson's life story.
Kesson's writing

A writer of novels, poems, film scripts and radio plays, Kesson was first published in 1940. Her life experiences inspired her fictional work, much of which was set in the rural north-east of Scotland. She was awarded honorary doctorates in the 1980s in recognition of her achievements.
Read more about Jessie Kesson's writing.
Literary archive

Our display drew on Kesson's literary archive, given to the Library in 2016. Kesson's distinctive voice and self-depreciating humour leap out from her handwritten manuscripts and typed documents, including fiction drafts, personal letters and poems.
Read more about Jessie Kesson's literary archive.