A cultural history of contagious diseases in Scotland
'Plague!' explored the contagious diseases afflicting people in Scotland over the past 700 years, along with society's reactions to contagion. The exhibition ran from 11 December 2015 to 29 May 2016.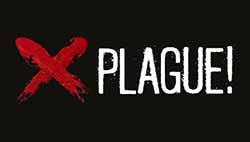 The National Library of Scotland's exhibition examined the plague, cholera, smallpox, and many other contagious diseases that affected Scotland over the past 700 years.
Visitors discovered how Scotland dealt with contagious diseases, through official and personal papers, religious writings, literature, press reactions and responses from folk medicine and the sciences.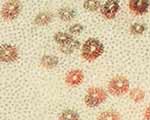 Diseases
Which contagious diseases ravaged the population? What were the symptoms, how did the diseases spread, and what treatments were available at the time?
More about Scotland's diseases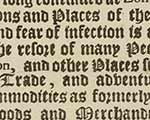 Reactions to disease
How did the Scottish people react to these deadly outbreaks? And how did governments handle the spread of disease?
More about Scotland's response to disease
Exhibition highlights

Charm wheel
A 16th-century Gaelic charm for protection against violent death, poison and demons of the air.
More about the Gaelic charm wheel

Map of Edinburgh
A map showing the cramped streets of Edinburgh in 1647, just when the plague was ravaging the city.
More about the map of Edinburgh

Medicinal plants
A 1790 book outlining the medicinal use of plants for preventing and curing illness.
More about treating illnesses with plants

The plague in Edinburgh
Robert Louis Stevenson's accounts of Edinburgh, including a story about plague in the city.
More about the plague in Edinburgh
Visitors to the exhibition could:
Experience the Edinburgh of old by visiting a cramped, cobbled Edinburgh close within the exhibition
See a specimen of skin affected by smallpox
Examine a skull showing the classic signs of syphilis
View a jar containing the hand of a person who died of leprosy
Meet the Library's newest addition: a stuffed black rat.
Some of Edinburgh's most famous landmarks 'caught the plague', with our exhibition logo projected on their walls, on the nights of 4 and 5 February 2016. Landmarks featured in the video are: