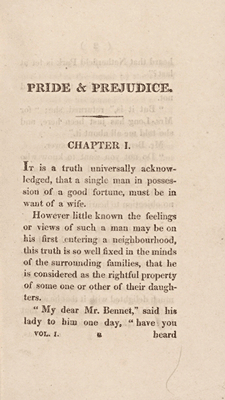 First page of the first volume of the first edition of 'Pride and Prejudice', 1813.
'It is a truth universally acknowledged, that a single man in possession of a good fortune, must be in want of a wife'.
No-one in 1813 who read that opening sentence of Jane Austen's second novel would have imagined that it was destined to become one of the most famous first lines in literary history.
This first edition featured in our display '200 years of "Pride and Prejudice": From Austen to zombies', which , which ran at the National Library of Scotland from 10 July to 15 September 2013.