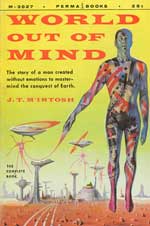 This display ran from 28 March to 30 June 2012 at the National Library of Scotland.

'It's life Jimmy, but not as we know it' was a display of some of the science fiction work that Scottish writers, and writers living in Scotland, have been producing over the past 200 years.
Exhibits from the National Library of Scotland's science fiction collections took visitors on a journey into the past, present and future of this little explored space of Scottish writing.
The keyboards of Iain Banks, Steven Moffat, John Wagner, Alan Grant, Alasdair Gray and Ken MacLeod, have given us pop icons like Dr Who and Judge Dredd, and taken us to parallel universes and post-apocalyptic worlds.
Highlights on display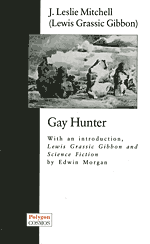 'Gay hunter' by J Leslie
Mitchell (Lewis Grassic
Gibbon), 1934.
Visitors to the display saw around 60 exhibits, from unpublished works to vibrant graphic novels. Notable among these items are:
Scotland's first proto-science fiction from 1817 — 'Armata' by Thomas Erskine
Lewis Grassic Gibbon does science fiction
Early work from Scotland's first genre writer, J T McIntosh
Forgotten gems like Margot Bennett's 'The Long Way Back'
Science fiction poetry from Scotland's first Makar, Edwin Morgan
Steven Moffat's first Dr Who story
Ken MacLeod — a 21st-century George Orwell.
Scotland's first science fiction
Our display began at the point when Scottish writing took its first flight into space.
Thomas Erksine's novel 'Armata', published in 1817, carried Regency-era readers on an interplanetary journey via sailing ship to a twin world fearful of technological change.
Seventy years later, Robert Louis Stevenson's iconic 'Strange tale of Dr Jekyll and Mr Hyde' unleashed humanity's dual nature on the Victorians. Since then the story has become part of Western cultural consciousness.
Other early works on show included 'The lost world', Arthur Conan Doyle's 1912 adventure featuring prehistoric creatures on a South American plateau.
Mid-20th century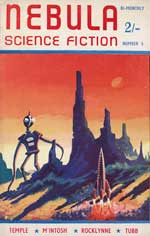 'Nebula'
, Scotland's
first science fiction
magazine
Science fiction played a small part in the writing careers of Scottish authors up to the mid-20th century.
This continued to be the case even after little-known J T McIntosh became Scotland's first major science fiction genre writer in the 1950s.
McIntosh — real name James Murdoch MacGregor — was a prolific and widely publisher writer, penning over two dozen books and 100 short stories in his 25-year career.
The 1950s also saw the emergence of Angus MacVicar, who wrote plays, televison and radio scripts and children's books, as well as over 70 novels in a variety of styles and genres. During that decade MacVicar adapted his own work 'The lost planet' (1953) for TV.
Sci-fi goes mainstream
With increased popularity in books, comics, television, films and games, science fiction became more mainstream as the second half of the 20th century progressed.
Scots novelist, radio star and ('Take the high road') actor Michael Elder wrote sci-fi throughout the 1970s, for instance, focusing on topics such as over-population and colonisation.
In the 1980s, Scotland began to punch above her weight in the comic worlds, with futuristic creations from the likes of John Wagner, Alan Grant and Cam Kennedy to name only a few. (Judge Dredd, anyone?)
Space operas and prime-time TV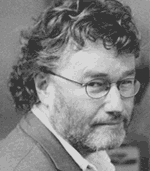 Iain M Banks.
Photo by John Foley
In the 21st century, Scottish writing continues to inspire and to explore the seemingly limitless galaxies of the mind.
Among up-to-date exhibits, we include material from the fantastic imaginations of Iain M Banks, Ken Macleod and Steven Moffat. Between them they have given us universe-jumping space operas, political extrapolations and acclaimed prime time television. (Dr Who, anyone?)
And alongside there are works by lesser-known figures like Gary Gibson, Charles Stross and Richard Morgan, demonstrating that the future looks bright for the genre scene in Scotland.