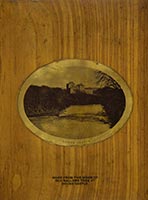 Early photography was often used in guidebooks and souvenir books in the late 19th century. George Washington Wilson (1823-1893) set up a photography business in Aberdeen in the 1850s, and cornered the market in photograph albums as souvenirs for tourists.
He was followed by James Valentine (1815-1879) of Dundee, who created a globally successful business selling postcards. Two editions of Valentine's 'Photographs, Scottish scenery' (1870, 1875) are on display. 
Souvenir of Doune Castle
James Dunbar's 'Guide to Doune Castle' was published in 1889 as a guide to Stirling Castle. The book's cover is made of Mauchline ware, a type of souvenir casing developed in Ayrshire. Often decorated with scenes of landmarks, Mauchline items were popular souvenirs for Victorian travellers.
The varnished oak binding is made from wood from the old gallows tree at Doune Castle, and contains an oval-mounted photograph of the destination.
Photographs from Scottish guidebooks were on display in '"Sun-pictures" and beyond', at the Library from 30 November 2016 to 26 March 2017.