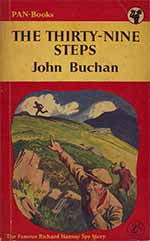 'The thirty-nine steps',
Pan, 1954.
Books and letters were among the items on display to celebrate the centenary of John Buchan's most famous novel. Ran from 10 September until 22 November 2015.
The National Library of Scotland's treasures display explored the gripping adventure story of 'The thirty-nine steps'.
On show were editions of John Buchan's 'shocker', alongside film ephemera, scripts and comic book versions of the adventure novel.
Published in 1915, John Buchan's Scottish spy thriller is the exciting tale of Richard Hannay — an ordinary man on the run from dark forces. The book was hugely influential, and remains Buchan's most famous work.
Highlights from the collections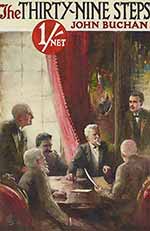 Original novel
cover art, 1915.
Among items on display were:
'Blackwood's Magazine', July 1915: the first appearance of 'The thirty-nine steps' in print form, published under a pseudonym
First edition and original artwork from the novel, 1915
Comic book edition, 1950
Edward Gorey illustrated edition
Original letters from Buchan, about the writing and publishing of the book.
John Buchan
When he wrote the novel, Buchan was working at publisher Thomas Nelson, writing a history of the ongoing war.
He was a prolific writer, politician and diplomat.
The origins of 'The thirty-nine steps'
Buchan found that writing the spy thriller was a welcome distraction from illness and war.
Published under a pseudonym, 'The thirty-nine steps' was serialised in 'Blackwood's Magazine' starting in July 1915.
Read more about the origins of the novel
The story
Set in May and June 1914, the action takes place before the outbreak of the First World War.
Richard Hannay embarks on a spy chase through Scotland by road and rail, pursued by murder and intrigue.
Read more about Richard Hannay's adventures
One hundred years of publication
The novel was an immediate success.
Although first released as a serial, when the book was published later in 1915, it sold 33,000 copies in three months.
It has remained in print ever since.
Read more about the novel's publication
Film, theatre and comic adaptations
Buchan's adventure novel has inspired many adaptations, including film, theatre, comics and graphic novels.
Read more about adaptations of the book