Some of the most beautiful books ever printed were on display in a celebration of the book as a work of art. From 26 November 2015 until 13 March 2016.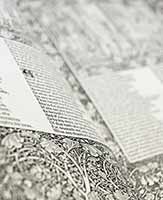 Ten handcrafted books were on show at the National Library of Scotland in 'The book beautiful', including two which are arguably the most beautiful books ever printed.
Private presses from the late 19th century onwards were inspired by the high standards of 15th- and 16th-century printers. Exploring these connections, our display matches early printed masterpieces with the 19th- and 20th-century texts they influenced.
Beautiful volumes on display include:
'De Aetna ad Angelum Chabrielem liber' by Pietro Bembo, 1495.
One of the first books published by Aldus Manutius, the most celebrated scholar-printer of the Renaissance
'La Hypnerotomachia di Poliphilo' by Francesco Colonna, 1545.
Also published by Aldus Manutius, this very rare book is famous for its exquisite engravings and the roman typeface cut by Francesco Griffo.
'Naturalis historia' by Pliny, 1476.
A masterpiece of typographic design, with the roman typeface which was the model for the Doves Press font used over 400 years later.
Highlights from the collections
'The book beautiful' brought together hundreds of years of beautiful books:
William Morris
A poet, writer, artist, craftsman and designer, William Morris (1834-1896) actively collected examples of early European printing. His own designs and typefaces were greatly influenced by these skilfully-crafted texts from the 15th and 16th centuries. Read more about William Morris and the Kelmscott Press
The Bible
The display included 'Biblia pauperum', from around 1460, the only blockbook in the Library's collections. It was displayed alongside two other important private press Bibles from the 20th century. Read more about private press Bibles
Dante
Two Dante publications were on display: the first illustrated edition of his complete works published in 1481, and a 1909 private press edition of the 'Divine comedy'. Read more about Dante's works