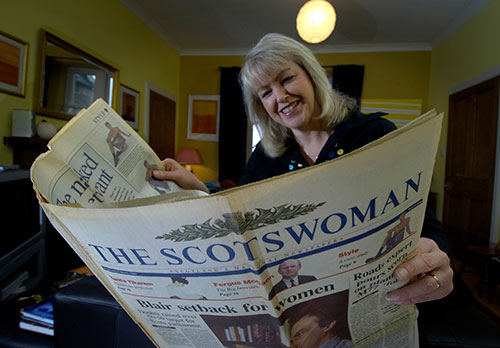 Lesley Riddoch with a copy of 'The Scotswoman'. From 'The Scotsman' archive, used with kind permission.
On 8 March 1995 'The Scotsman' rebranded itself as 'The Scotswoman' to mark International Women's Day.
This was the idea of Lesley Riddoch, then the only woman on the paper's editorial board.
The change made headlines around the world and the issue became the highest selling edition of the Scotsman that decade.
Asserting its Scottish identity while proclaiming an international outlook has given 'The Scotsman' a presence on the world stage.
On 21 July 1969, for example, it reported American tragedy and triumph on its front page with coverage of both the Apollo moon landings and the Chappaquiddick incident.
'The Scotsman' produced a commemorative copper plate of this cover in recognition of its importance. On loan from the newspaper, this was one of the exhibits in the Library's display.