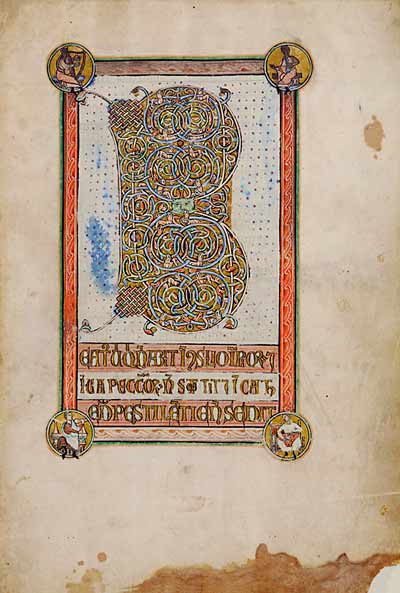 The start of the first Psalm, 'Beatus vir', in the Iona Psalter
The Iona Psalter is beautifully decorated volume. It was probably written in Oxford between 1180 and 1220, but is believed to have been made for the Augustinian priory of Iona.
A number of Iona saints appear in the calendar and litany, and the Latin prayers use the female form. Its first owner may have been Beatrix, Iona's first prioress, although we do not know for certain whether the volume ever reached the island.
An lavishly decorated initial 'B', shown here, marks the beginning of the text of the first Psalm in the Iona Psalter: 'Beatus vir qui non abiit in consilio impiorum' ('Blessed is the man that walketh not in the counsel of the ungodly').
The letter is shaped from interlaced foliage and small animals, and infilled with gold on a blue background that is now faded. It is surrounded by four roundels showing musicians playing stringed instruments.
The National Library of Scotland bought the Iona Psalter in 1960.
The Iona Psalter featured in our display 'Celebrating Iona', at the National Library of Scotland from 3 May to 7 July 2013.