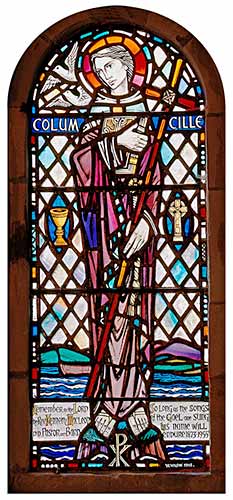 The St Columba window at Iona
Abbey, dedicated in 1939.
© Crown Copyright Historic
Scotland reproduced
courtesy of
Historic Scotland
.
Colum Cille, or St Columba, the first monastic leader on Iona, lived from around AD 521 to 597.
In 563, Columba and a small group of relatives and followers travelled from Ireland to Iona, a small island off the south-west of Mull. According to tradition, 12 companions crossed the sea with him in a coracle.
Monastery founded
Columba's own kinship with the Irish Uí Néill royal dynasty, which was related to the ruling dynasty of the Scottish kingdom of Dál Riata, was a helpful factor in his undertaking. He received the island as a gift, and a monastery was founded.
Despite its peripheral position, the monatery soon gained considerable influence within the kingdom. Further monastic foundations followed.
Saintly man
Columba's life, and especially his time on Iona, is described in a biography written by Adomnán, ninth abbot of Iona (died 704). This work remains our main source of information. 
Columba also became the subject of poetry and was claimed to have been a poet himself.
While his aristocratic background helped in the development of Iona and related monastic foundations, it was his own veneration as a kind-natured and saintly man that ensured Iona's lasting reputation. 
Long after his death, Iona continued to thrive as a place of pilgrimage and a burial place of kings.
Items relating to St Columba featured in our display 'Celebrating Iona', at the National Library of Scotland from 3 May to 7 July 2013.