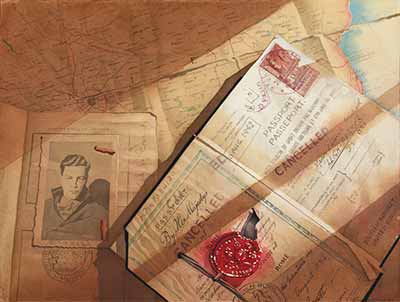 'Paddy's passports' painted by Hugh Buchanan.
Sir Patrick Leigh Fermor was one of the 20th century's most important travel writers. The archive acquired Leigh Fermor's papers in 2012, which includes correspondence from major figures such as Truman Capote and Prince Charles, along with well-used maps, tickets and passports from his travels.
Hugh Buchanan's paintings focus on selected materials from Leigh Fermor's travels: passports and maps. Leigh Fermor's passport from 1934-1937 was displayed alongside the paintings, along with his battered map of Crete.
This item featured in our display, 'Hugh Buchanan paints the John Murray Archive', at the Library from 25 June until 6 September 2015.