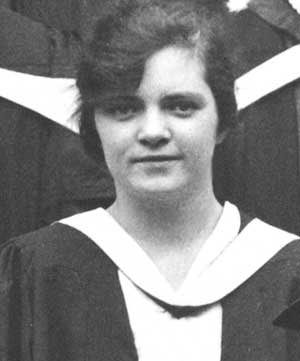 © School of Mathematics, University of
Edinburgh.
Mathematician.
Born: 1902
Died: 1979
Marion Gray discovered a remarkable graph with 54 vertices while she was working in the Department of Development and Research of the American Telephone and Telegraph Company (AT&T).
More than 30 years afterwards, it was observed that this graph could be used to resolve a problem concerning the types of symmetry that a graph may or may not possess.
Her work is now very important in network theory, and much cited today.
Work at Bell Laboratories
Born in Ayr, award-winning student Marion Gray graduated with first-class honours from the University of Edinburgh in 1922. She gained her PhD in Mathematics with Physics at Bryn Mawr College in Pennsylvania, after which she worked in Edinburgh and London.
In 1930 she returned to the USA to work at AT&T, later joining the technical staff of Bell Laboratories, a prestigious research institution, where she spent the rest of her working life.
Handbook of mathematical functions
As well as her own research articles, Marion compiled many reviews of publications on mathematical physics, and served on the US Government-related committee which produced the 'Handbook of mathematical functions'.
Marion remained an active member of various professional mathematical societies throughout her career. Her last years were spent back in Edinburgh.
Items relating to Marion Gray featured in our display 'Celebrating Scottish women of science', which ran at the National Library of Scotland from 1 March to 30 April 2013.