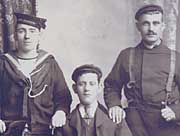 Published directories might help if you want to find out where your ancestor lived or what kind of job they did.
We have a variety of directory types at the National Library of Scotland, including:
Street and county directories
Trade and professional directories
Military directories
Peerage and landed gentry lists
Ecclesiastical directories
University graduates lists.
Street and county directories
Street and county directories usually provide a brief description of the places covered as well as lists of residents and tradesmen. They started to appear from about 1800, although some earlier ones do exist. However, these directories are not complete lists for each town as individuals had to pay for entries.
Areas covered
To begin with street and county directories mainly covered large towns. As the 19th century progressed, more titles were published to cover smaller towns and rural areas. The directories became more comprehensive over time and were published more frequently.
An example is the 'Post Office Edinburgh & Leith Directory' (Edinburgh: Postmaster General, 1846-1918).
Scottish Post Office directories online
More than 700 Scottish Post Office directories for the period 1774 to 1911 are now available to read online. As well as an alphabetical list of people, these books contain street and trades directories, and often include other listings.
Trade and professional directories
You can search trade and professional directories to find out the occupations of your ancestors. An example is 'Clarke's Business Directory of Scotland' (Glasgow: C Clarke, 1895).
Military directories
Military directories can help if you are researching ancestors who were in the armed forces. These publications can provide information about the units that individuals served in, but you should be aware that most of these directories only list officers. One example in our collections is the 'Army List' (London: HMSO, 1714-).
Peerage and landed gentry lists
Peerage and landed gentry lists can confirm ancestry from titled and landed families in Scotland. A useful one is 'The Scots Peerage', by Sir James Balfour Paul (Edinburgh: David Douglas, 1904-1914, 9 volumes).
Ecclesiastical directories
Ecclesiastical directories can provide information on ancestors who were employed in the religious professions. An example is the 'Fasti Ecclesiae Scoticanae: the succession of ministers in the Church of Scotland from the Reformation', by Hew Scott (Edinburgh: Oliver & Boyd, 1915-).
University graduates lists
Lists of university graduates can provide confirmation of your ancestors matriculation at or graduation from a Scottish university. One of them is the 'Matriculation Roll of the University of St Andrews, 1747-1897' by James Maitland Anderson (Edinburgh: William Blackwood & Sons, 1905).
Ancestors in India
For those researching their ancestors' lives in India there are directories available in the India Papers collection at the Library.
Reference sources
Two useful reference sources are:
'British Directories: A bibliography and guide to directories published in England and Wales (1850-1950) and Scotland (1773-1950)', by Gareth Shaw and Alison Tipper. 2nd edition. (London: Mansell, 1997.)
'Scottish Trades, Professions, Vital Records & Directories: A Selected Bibiliography', by Richard D Torrance. (Aberdeen: Scottish Association of Family History Societies, 1998.)
Additional