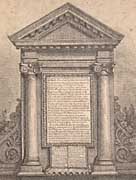 Gravestones can contain important genealogical details:
Dates of birth and death
Age at death
Marital status
Children
Place of residence
Occupation.
Finding graveyards
Gravestones can also provide clues to relationships with specific families. If you are able to find information on your family's gravestones, you may decide that you want to see the original memorials.
At the National Library of Scotland we can help you find the relevant graveyards in Scotland: contact us for more information.
Published monumental inscriptions
If you are interested in finding gravestone inscriptions for your ancestors, you should look at our collection of published monumental inscriptions. We have an index of monumental inscriptions held in the Library's collections, which we update occasionally.
We have a small selection of published volumes of monumental inscriptions in the General Reading Room which you can consult if you have a library card. You can find details of these and other titles in Library Search, using either by title or keyword.
Not a complete list
Please note, however, that not every graveyard in Scotland has been surveyed. The work of transcribing surviving gravestones is done by volunteers and is a continuing process.
Scottish Genealogy Society
Some unpublished monumental inscriptions are held by the Scottish Genealogy Society. They have produced 'A list of published & unpublished monumental inscriptions held by the Scottish Genealogy Society' by Angus Mitchell, Mary Mitchell and Marjorie Stewart. A copy of this is available in our General Reading Room.
Gravestones in India
There are some monumental inscriptions available in the India Papers collection. These could be useful if you are searching for information on ancestors in India.
Additional