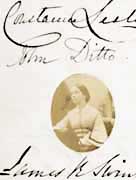 Manuscript collections at the National Library of Scotland cover many aspects of the lives, activities and interests of Scots at home and abroad.
The geographical spread of our manuscript material ranges from Shetland to the Borders and Galloway to Caithness. There is particularly extensive coverage of south and east-central Scotland, but most regions of the country are represented.
Family and estate archives
As well as our extensive genealogical collections, we have wide-ranging holdings of family and estate archives. These include much of interest for family historians — from records of tenants and employees to household inventories and accounts.
Particularly large or well-detailed archives include:
The Sutherland Estates papers (Sutherland)
The Maxwell of Monreith papers (Wigtonshire)
The Yester and Saltoun papers (East Lothian).
Emigrants' correspondence
Also of specific interest to family historians may be the Scots Abroad resource. This includes a database which lists emigrants' correspondence and papers from the manuscripts collections. See our page on emigration and passenger lists for more about emigration research.
Labour and trade union history
The Scottish Labour History collections, which include personal papers of individuals active in the field of Scottish labour and trade union history. The records of many of the old Scottish Trades Incorporations from the 16th century are here too.
Missionary records
Among our manuscripts is a large collection of Church of Scotland Foreign Missions records. These include correspondence and papers of missionaries, particularly in Africa and Asia in the 19th and 20th centuries.
To find out more
To find out more about our manuscripts collections you can search our manuscript catalogues and guides. However, not all of our manuscript collections are catalogued online. Please contact Manuscript Collections if you don't find what you are looking for in the catalogue.
Additional