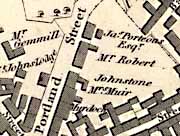 Local maps can help you to familiarise yourself with the area of Scotland that your ancestors came from.
They can also confirm specific information about your ancestors — land tenure or ownership, for example.
Early Scottish maps online
The National Library of Scotland's map collection is one of the largest in the world. We have around 2 million maps, covering most parts of the globe.
Many of our early Scottish maps are available online, including:
Find out more about our online maps.
Maps Reading Room services
Please contact Maps Collections if you want to:
Visit us to see maps
Find out how maps can help with your family history research
Buy copies of our maps.
Additional