Extract from 'The Dobruja retreat', published in 1918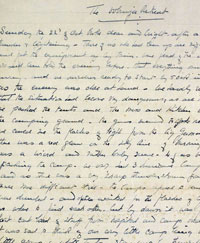 This account of the retreat from Dubruja was written by Mary Milne, a cook working with the Scottish Women's Hospitals (SWH) organisation (source 5).
Read the extract from 'The Dobruja retreat'
The Eastern Front
In the autumn of 1916, Mary's SWH unit was providing medical assistance to the 1st Serbian Volunteer Division.
On 22 October, the women in the unit were forced to leave their camp in Dobruja, Romania, due to heavy fighting.
Mary's memoir, published as a magazine article in 1918, describes the eventful journey to safety.
Suggested activities
Read this extract of one woman's account of working on the Eastern Front. Think about the language, tone, and structure of this piece of writing. Is it a personal memoir, or do you think it was written to be published?
Why might this account have been published anonymously 'by a member of the Scottish Women's Hospital'?
According to this account, how did the women record their experiences while working on the Eastern Front? How did they receive news?
The author uses the phrase 'our noble selves' to describe the women working in the field hospital. Do you think that she genuinely thought of herself as noble and heroic, or is this meant in an ironic way?
Compare this description with the comments by May Sinclair in source 4.
According to the author, how do the women cope with imminent danger?