Fairy tale settings: The castle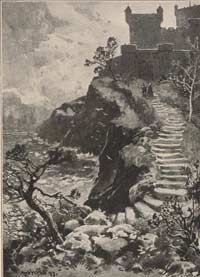 Example of a castle found
in fairy tales.
This illustration is from the story of 'Rapunzel' in the book 'Little Snow White and other fairy stories', published about 1898. Download castle illustration (PDF: 1.2 MB; 1 page).
The centre of the kingdom
The fairy tale castle is the centre of the kingdom, and often the home of king and queen. It is associated with:
Wealth
Royalty
Power
Luxury.
It is a defensive structure, so it also represents safety and strength.
The castle can also be a place of secrets. It has many rooms where people and objects can be hidden, lost, or locked away. In 'Bluebeard', the wife is given the keys to the castle, but is told never to enter one small room.
Where characters are held captive
In some fairy tales, characters are held captive in towers and castles against their will. For example, in 'Jorinda and Joringel' (Grimm), Jorinda is turned into a bird by a sorceress and kept in a tower in a forest until she is rescued by Joringel. Rapunzel is also locked in a tower 'which had neither stair nor door, only one little window right at the top.'
Suggested activities
Imagine that a fairy tale character is planning to sell their castle. Ask the pupils to create a property description which will be sent out to potential buyers. The pupils could look at real property descriptions to find out more about layout and style. The property description could include:

A picture of the castle
A description of the rooms
A description of additional features, such as a magical mirror in the bedroom, or a tenant with very long hair in the tower!


Literacy and English experiences and outcomes: [ENG 1-13a; ENG 2-31a; LIT 1-14a; LIT 2-14a]
Create a giant fairy tale castle to decorate the classroom. Create two large castle shapes from card or thick paper. Ask each pupil or group of pupils to draw or paint a themed room which will be stuck to one of the castle shapes. The rooms could include fairy tale characters. Cut doors or windows from the second castle shape to create an advent calendar style castle.

Expressive Arts experiences and outcomes: [EXA 1-05a; EXA 2-05a]
Read the following description of the castle in 'Beauty and the beast'. Ask the pupils to create a drawing or painting based on this description:

'And she stepped into the garden of red roses, and in the distance across the Park she saw the Castle, and she thought she had never seen anything so beautiful. For it was built of mother-of-pearl, and the red and yellow gleams of the rising sun shone upon its glistening walls, and lit them up with a thousand radiant lights.'

[EXA 1-05a; EXA 2-05a]
If there is a castle close to your school, try to arrange a visit. Work with the pupils to create a new fairy tale based on this castle and setting, including some of the features of the building and surrounding landscape.

[ENG 1-31a; ENG 2-31a]

Download storybox activity (PDF: 157KB; 1 page)