Realistic portrayal of children
More items for
forgotten
women writers: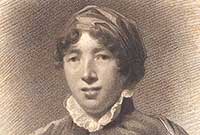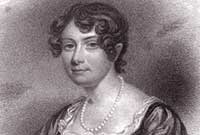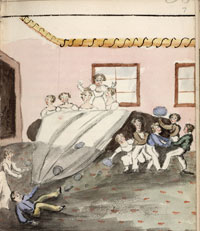 Illustration by Catherine
Sinclair, from 'Holiday
house'.
Catherine Sinclair was born in Edinburgh on 17 April 1800 and was one of 13 children.
Her father was Sir John Sinclair, a prominent politician who played an important part in many aspects of public life at the time.
Most notably, he originated 'The Statistical Account of Scotland'.
Catherine was educated at home and from the age of 14 worked as her father's secretary.
This involved writing from dictation for long periods each day, but it gave her a good grounding in the craft of writing.
'Modern accomplishments'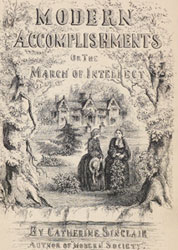 'Modern
accomplishments'
title page.
Catherine Sinclair began her publishing career with a horror story in 'Blackwood's magazine'.
She also began writing children's books to entertain her young nieces and nephews. The first of these books, 'Charlie Seymour, or, The good aunt and the bad aunt', was published in 1832.
After her father's death, Catherine was able to devote more time to writing and 'Modern accomplishments', a novel of fashionable life, was published in 1836.
This was followed by a sequel, 'Modern society' in 1837 and several later novels. From 1838, she also wrote a series of travel books beginning with 'Hill and valley, or, Hours in England and Wales'.
'Holiday house'
Catherine Sinclair wrote in a variety of genres, including novels, children's literature, travel writing, and devotional works.
Her novels sold thousands of copies — the illustrated 'Modern accomplishments' title page was first used decades after the first edition, when the book was still popular.
Her best-known book is 'Holiday house', a children's book published in 1839 which remained a nursery favourite for the next century.
It was a landmark in children's literature — one of the first books to give a realistic picture of children who are naturally curious, mischievous, and argumentative.
Religious beliefs
Catherine's family belonged to the Scottish Episcopal Church, and her religious beliefs are evident in her fiction. She wrote a number of devotional works and, at the time of her death in 1864, she was celebrated in Edinburgh for her extensive charitable and educational work.
As well as founding a mission school at the Water of Leith, she also set up public benches and fountains, and a Sinclair Cooking Depot which provided good, cheap food for the poor.
A monument to Catherine Sinclair was erected by public subscription and can be found on the corner of Albyn Place and North Charlotte Street.
The novelty of the novel
The novel was still a relatively new form of writing at the beginning of the 19th-century, and was associated with a female readership. Novels were considered to be quite frivolous and trivial, in comparison to essays or poetry which were more suitable for conveying serious thoughts and lofty ideals. Jane Austen famously took a moment in her own novel 'Northanger Abbey' to attack this way of looking at the novel:
'Although our productions have afforded more extensive and unaffected pleasure than those of any other literary corporation in the world, no species of composition has been so much decried. From pride, ignorance, or fashion, our foes are almost as many as our readers. And while the abilities of the nine-hundredth abridger of the History of England, or of the man who collects and publishes in a volume some dozen lines of Milton, Pope, and Prior, with a paper from the Spectator, and a chapter from Sterne, are eulogized by a thousand pens — there seems almost a general wish of decrying the capacity and undervaluing the labour of the novelist, and of slighting the performances which have only genius, wit, and taste to recommend them.'
This view of the novel as trivial compared to other forms of writing may be another reason why both men and women chose to publish novels anonymously.
In contrast to Susan Ferrier and Mary Brunton, Catherine Sinclair put her name on the title pages of her books. She explained that this was because her father strongly disapproved of anonymous publication. Perhaps she felt the need to justify her decision to name herself because she knew not everyone would approve.
Walter Scott
This view of the novel as trivial compared to other forms of writing may be another reason why both men and women chose to publish novels anonymously. Sir Walter Scott — a contemporary of our four forgotten women authors — put his name to his poetic works, but published all of his novels anonymously.
Discussion points
Can you think of examples of contemporary authors who either publish anonymously or use pseudonyms? Why might they choose to do this? Do any of the reasons from the early 19th-century still hold true?
Do you think some genres of literature are still considered more important or 'worthy' than others? Are some genres associated with either male or female writers?
Why do you think that the novel might have been thought of as a 'female' form of writing when it first appeared?
In your opinion, what makes an author Scottish? Is it to do with birth, the place where one's based, or is it the choice of subject matter?
Novels by Catherine Sinclair
Read these books if you enjoy Jane Austen, Downton Abbey or Enid Blyton. You should also read these books if you enjoy novels which show life above and below stairs, are full of humour but also have moments that can tug at the heartstrings.
'Modern accomplishments'
In 19th-century Britain, young ladies were supposed to be 'accomplished' — but what does that mean? This is the question Catherine Sinclair asks in 'Modern accomplishments'. Matilda Howard has been brought up by an intellectual mother. Her cousin Eleanor Fitz-Patrick has been raised to be the perfect debutante.
Now 16, they arrive in the Edinburgh of the 1830s to complete their education, and meet a variety of adults who all have opinions about how a young lady should behave. Catherine Sinclair's talent for comedy, characterisation and dialogue means that this study of teenage girls in the years just before Queen Victoria came to the throne is a lively and engaging read even as Sinclair's own moral agenda clearly shows through.
'Modern accomplishments', seventh thousand reprinting of 1838
'Modern society'
The sequel to 'Modern accomplishments' continues Matilda and Eleanor's stories. Now a wealthy heiress, Eleanor invites Matilda and a group of other guests, male and female, to her remote Scottish castle. Flirtation is in the air, but questions of money and social status seem to complicate possible romances before they even begin. Meanwhile, as idle young men exchange witty banter in the drawing-room, a tragedy quietly unfolds below stairs.
'Modern society', first edition of 1837
'Holiday house'
Sinclair's best-known book, 'Holiday house' began as a tale to entertain her nephews and nieces. Its realistic portrayal of how children think and act made it a revolutionary book in the history of children's literature and a nursery favourite for a century. Laura and Harry sometimes try to do the right thing, and sometimes deliberately get up to mischief, but their exploits around Victorian Edinburgh always seem to end in trouble …
'Holiday house', an American edition from 1839