'A happily married author'
More items for
forgotten
women writers: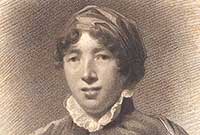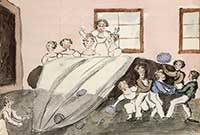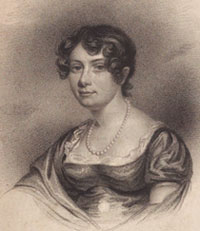 Mary Brunton.
Mary Brunton was born on Burray, one of the Orkney islands.
Aged 20, Mary fell in love with the Reverend Alexander Brunton, tutor to her younger brothers.
The family did not approve of the attachment, and so Mary and Alexander eloped by boat to the mainland where they married.
The couple later moved to Edinburgh when Alexander became minister at the New Greyfriars Kirk, and later at the Tron Kirk.
'Self-control'
Alexander supported his wife's interest in philosophy and history, and Mary began to write literature for her own amusement. Her first novel 'Self-control' was published in 1811, and was an immediate success. It went through four editions in its first year of publication. In a letter to another author, Joanne Baillie, Mary Brunton wrote:
'Till I began Self-Control, I had never in my life written any thing but a letter or a recipe, excepting a few hundreds of vile rhymes, from which I desisted by the time I had gained the wisdom of fifteen years; therefore I was so ignorant of the art on which I was entering, that I formed scarcely any plan for my tale. I merely intended to shew the power of the religious principle in bestowing self-command; and to bear testimony against a maxim as immoral as indelicate, that a reformed rake makes the best husband.' ('Emmeline' link pages xli-xlii)
'Discipline'
Mary Brunton's next novel, 'Discipline', appeared in 1814 and was well received. Mary was half-way through writing this novel when Sir Walter Scott's 'Waverley' was published. She so admired his writing that she was tempted to abandon her own, convinced of her inferiority, but her husband talked her into continuing.
After 'Discipline', she planned a series of 'Domestic Tales', and also began work on a new novel 'Emmeline', but it was never finished. It was later published, with a memoir by her husband, after her death.
Mary Brunton died in December 1818 after giving birth to a stillborn son, and is buried in the Canongate Kirkyard, Edinburgh.
A view of Edinburgh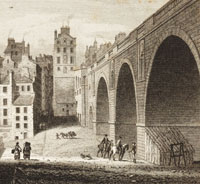 North Bridge.
In her novel 'Discipline', published in 1814, Mary Brunton describes the arrival of the heroine Ellen Percy in Edinburgh for the first time. The passage describes Ellen's approach to the Old Town via North Bridge.
This was the first North Bridge which stood from 1772 to 1896, when it was replaced with the bridge which still stands today.
'We passed the singular bridge which delighted me with the strangely varied prospect of antique grandeur and modern regularity, — of a city cleft into a noble vista towards naked rock and cultivated plain, — seas busy with commerce, and mountains that shelter distant solitudes. I could scarcely be dragged away from this interesting spot; but my landlady, to whom it offered nothing new, was, soon after leaving it, much more attracted by a little scarlet flag, upon which was printed in large letters, "A rouping in here". This she told me announced a sale of household furniture, which she expressed much curiosity to see; and I suffered her to conduct me down a lane, or rather passage, so narrow as to afford us scarcely room to walk abreast, or light enough to guide us through the filth that encumbered our way. A second notice directed us to ascend a dark winding staircase; leading, as I afterwards learned, to the abodes of about thirty families. We had climbed, I think, about as high as the whispering gallery of St Paul's, when our progress was arrested by the crowd which the auction had attracted to one of the several compartments into which each floor seemed divided.'
Mary Brunton herself lived in Edinburgh but she had not been born there. In this passage she draws on both her knowledge of the city and her awareness of what it was like to visit it for the first time. Look at the adjectives Ellen uses to describe the buildings and landscape:
What impression do they give of Edinburgh?
How does Ellen's attitude contrast to that of her landlady's — what different things do they find interesting?
How does Brunton's description compare with the engraving 'View of North Bridge, Edinburgh'?
Discussion points
Describe somewhere you know well through the eyes of a fictional character arriving there for the first time. You will need to think of a reason why they are travelling there, the route they take, what they see at the time of day or day of the week they arrive.
In your opinion, what makes an author Scottish? Is it to do with birth, the place where one's based, or is it the choice of subject matter?
You can find out more about modern and contemporary Scottish writers in our web feature The write stuff which features photographs of the authors by Edinburgh-based publisher and photographer Gordon Wright.
Novels by Mary Brunton
Read these books if you enjoy Charlotte Bronte, George Elliot or stories of self-discovery with strong heroines making their own way in the world.
'Self-control'
Laura begins 'Self-Control' as a naïve girl who has never set foot outside her remote Scottish village — but her innocence is soon shattered when her suitor Captain Harville makes an ugly attempt to seduce her. Forced out of this paradise, Laura embarks on a journey that will take her to Edinburgh, London, and the wilds of Canada, and that will teach her how to survive emotionally and practically in a world where she can never completely trust anyone to look after her. On the way, she has to work out whether once she has given her heart to handsome, tortured Harville she can ever change her mind.
'Self-control', Bentley's Standard Novels edition of 1832
'Discipline'
"It is a confounded pity she is a girl. If she had been of the right sort, she might have got into Parliament, and made a figure with the best of them. But now what use is her sense of?" So says Ellen Percy's father when she is young. Instead of being given an education to develop her talents, wealthy and beautiful Ellen Percy is allowed to become spoilt, demanding, and self-centred. When she is faced with the loss of money and position, will Ellen be able to learn how to survive as an independent woman?
'Discipline', Bentley's Standard Novels' edition of 1832, including her husband's memoir of Brunton
Recent published editions
'Self-control', edited by Anthony Mandal (London: Pickering & Chatto, 2013, Chawton House Library: Women's Novels series)