Marine engineer, 1894-1978
More items for
women of
science: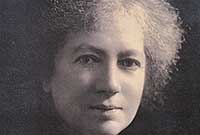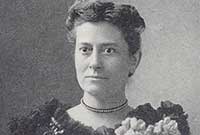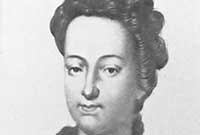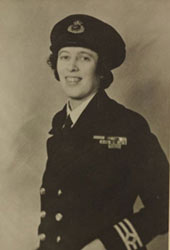 Victoria Drummond in
naval uniform.
Victoria Drummond was born at Megginch Castle, Perthshire. She was named after her godmother, Queen Victoria. Victoria became the first British woman marine engineer, and the first woman member of the Institute of Marine Engineers. She was awarded an MBE and Lloyds war medal for bravery at sea during the Second World War.
There is a plaque commemorating Victoria Drummond's achievements at the entrance to the University of Abertay in Dundee (formerly Dundee Institute of Technology) where she trained.
Training to be an engineer
Like many girls of her social class, Victoria was educated at home. From an early age, she showed an interest in mechanics. She surprised her family by wanting to make her career as a marine engineer. This branch of engineering focuses on the design and construction of sea-going vessels.
The First World War provided many new employment opportunities for women. Victoria Drummond began her career as an apprentice in the Northern Garage, Perth, from 1916-1918. She then moved to the Caledon Ship Works in Dundee where she stayed until 1922.
These film clips from the Moving Image Archive show various processes and shipyard scenes that Victoria would have been familiar with.
Life at sea
In the 1920s, Victoria Drummond served on ships visiting:
Australia
China
Africa
India.
During the Depression of the 1930s, there was little demand for marine engineers, and she found it difficult to get work. Her continuing determination to become a chief engineer shows in the fact that she sat — and failed — the examination 37 times! She became convinced that this was because she was a woman. She was, however, awarded a Panamanian chief engineer's certificate.
War work
At the beginning of the Second World War, Victoria Drummond worked as an air raid warden in London. The Victoria Drummond canteen was set up in Lambeth North to provide food for families bombed out of their homes.
By 1940, she was serving at sea again, and in August 1940 joined the SS Bonita. The ship was attacked by enemy aircraft in the mid-Atlantic and Victoria Drummond was commended for her bravery and leadership on this occasion:
'Her conduct was an inspiration to the ship's company, and her devotion to duty prevented more serious damage to the vessel' ('The Times', 10 July 1941).
After the war, Victoria Drummond worked as a superintendent in shipyards in Dundee and Burntisland, then at sea as second or chief engineer until her retirement.
Discussion points
Look at the Moving Image Archive film clips of shipyards in Scotland from 1919 and 1937. How do you imagine it might have been for a woman working in this environment?
Look at the 'Inspiring women engineers' publication by the Royal Academy of Engineers (PDF) (550 KB; 22 pages) to find out what kind of jobs women engineers do today, and also some of the challenges that they have faced during their training and careers
At the beginning of the 20th century, it was very unusual for a woman to pursue a career in Mechanical Sciences or engineering. Victoria Drummond was the first woman marine engineer in Britain and a pioneer in her field. Can you think of any modern day equivalent careers or fields of study where women have yet to make an impact?
Useful links