---
Services and facilities
Consulting the digital collections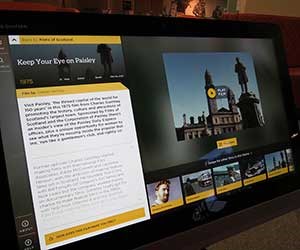 A touchscreen showing one of the
themed video packages
The 12-screen video wall is a visual introduction to the Library, and our themed video packages help you explore subjects of interest, from industry to entertainment.
We currently have six computers available. Due to social distancing measures, not all computers in the area are in use. One computer has a large key keyboard, a track ball mouse, and Dolphin assistive technology which provides a screen reader and magnifier. We have three touch screen units with headphones.
You can also plug in your own laptop or tablet and use our free WiFi.
Films and videos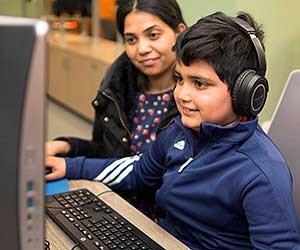 Thousands of films and other digitised
collection items are there to enjoy
The Moving Image Archive at the National Library is Scotland's national collection of moving images. You can watch more than 3,800 digitised films at Kelvin Hall including over 1,100 items that cannot be seen outside the Library for copyright reasons.
Maps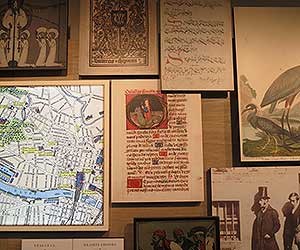 Part of the treasures display wall
Along with thousands of maps digitised from our collections in our map images website, researchers can access the legal deposit mapping portal — material that is only made available via legal deposit libraries.
eResources and electronic legal deposit material
You can use hundreds of thousands of newspapers, ebooks, ejournals, reference works and databases at Kelvin Hall, including resources that help with family history research. If you have a residential address in Scotland, you can register online to use some of the eResources outwith the Library.
When using our search service Library Search, you may come across a message that indicates that the item is legal deposit material. In Kelvin Hall you can consult this material, which is only made available via legal deposit libraries, once you agree to the legal deposit terms and conditions.
Moving Image Archive research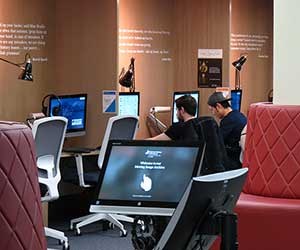 Research booths provide access to
a vast range of electronic resources
You need an appointment to consult the Moving Image Archive paper archive — and you must join the Library to use this part of the collection. If you do not have a Library log in, our staff will take you through the registration process.
To make an appointment, email kelvinhall@nls.uk or phone 0141 880 2329.
The discovery space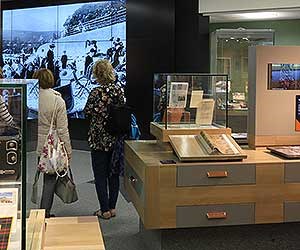 Our discovery space in Kelvin Hall includes
a video wall
The discovery space at Kelvin Hall presents a mirror of Scottish life past and present and covers the whole of the country.
Items are on display here from our collections. Mostly Scottish, some will be familiar, while others may be unexpected.
Reproduced in the space is a selection of treasures from our manuscript and printed collections, ranging ranging from the 16th to the 20th centuries. Scottish history, art, politics and ingenuity are represented, providing a glimpse of the diversity and depth of collections at the Library.
Two large discovery chests illustrate the richness and variety of 20th-century Scottish life. Together they take a number of themes — fun, home, work, place — with printed items, film clips, and objects gathered together to provoke memories or surprise.
Along one wall are objects relating to the history of film-making and cinema-going in Scotland. On display are film strips, film reels and cans, posters, etc. — and the Oscar presented for the award-winning film 'Seawards the Great Ships'.
We also have a small display of historic projectors and other film equipment seen elsewhere in the space.
What you are not able to do at present
Due to coronavirus precautions:
Discovery Space: You must not open drawers, turn the pages of facsimile books, or push buttons. Signage will be in place to remind you of this
You cannot access moving image and sound collections which have not yet been digitised and therefore remain in physical form (on film, tape or disc)
Researchers cannot book viewing rooms at Kelvin Hall by appointment to watch or listen to collections on DVD, video, tape, disc and other formats
There is no printing or photocopying
We are not running events in our Learning Room or the Kelvin Hall Cinema. We are continuing to deliver a series of online events
Café and retail facilities at Kelvin Hall are not available.
Health and safety measures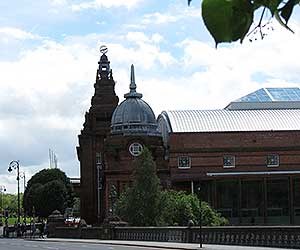 We have several mitigating measures in place to minimise the spread of Covid-19. These measures may change as advice from the Scottish Government is updated.
They include physical distancing restrictions; reduced capacities; perspex screens at reception areas; one-way walking routes; the promotion of rigorous hand washing and the provision of hand sanitiser and wipes for computer equipment.
Please do not visit if you have any Covid-19 symptoms or have been in contact with anyone who has tested positive for Covid-19 within the last 14 days.
What cleaning procedures are in place?
The Library spaces in Kelvin Hall have been cleaned before opening to the public and regular cleaning procedures are in place.
We ask visitors to clean touch screens, keyboards, mice, chair armrests and headphones before and after use and will provide wipes for you to do this.
Staff will clean the computer keyboard and mouse between visitors.
Do I need to wear a face covering?
Yes — in line with the Scottish Government's guidance, visitors must wear a face covering to keep themselves and others safe when visiting. We recognise that some visitors have health conditions, disabilities or other factors that prevent them from wearing a face covering.
The Scottish Government has published guidance on the use of suitable face coverings and exemptions.
Do I have to queue to visit the National Library?
Due to distancing requirements the number of visitors to the Library will be restricted. You may have to queue.
Are Kelvin Hall's toilet facilities available?
Yes — although, as with all areas of the building, social distancing measures will be in place.
Contact tracing
Public health and government guidance for reopening public venues requires the National Library of Scotland to participate in the Test and Protect scheme. We will request your contact details when you visit and the information will be held securely for three weeks and then destroyed.
Opening hours
The National Library at Kelvin Hall, including the Moving Image Archive, is now open with revised opening hours. 
Tuesday:   10.00-16.00
Thursday:   10.00-16.00
Saturday:   10.00-16.00
Moving Image Archive office hours — Monday to Friday: 09.00 to 17.00.
Enquiries
Staff are on hand at the information desk to help you get the most out of our collections and services. We can also help you register to consult the Moving Image Archive paper archive or for remote access to our eResources.
Email: kelvinhall@nls.uk.
Tel: 0141 880 2329.
See separate contact details for the Moving Image Archive.
Kelvin Hall access and facilities for people with disabilities
Additional