Services and facilities
Consulting the digital collections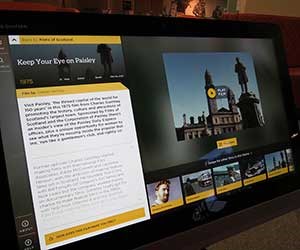 A touchscreen showing one of the
themed video packages.
The 12-screen video wall is a visual introduction to the Library, and our themed video packages help you explore subjects of interest, from industry to entertainment.
Some material is only available on Library premises, and there is film and video content that can only be viewed at Kelvin Hall.
You can access our growing digital collections on computers in our research zone. One computer has a large key keyboard, a track ball mouse, and Dolphin assistive technology which provides a screen reader and magnifier.
We also have six touchscreen units with headphones.
You can also plug in your own laptop or tablet and use our free WiFi.
Films and videos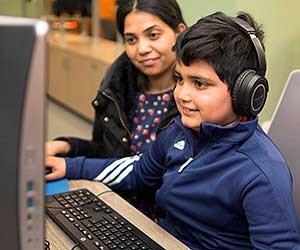 Thousands of films and other digitised
collection items are there to enjoy.
The Moving Image Archive at the National Library is Scotland's national collection of moving images. You can watch more than 4,700 digitised films at Kelvin Hall including over 1,700 items that cannot be seen outside the Library for copyright reasons.
Maps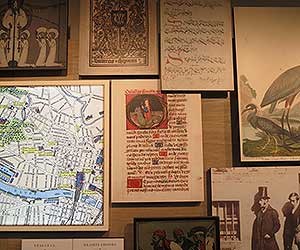 Part of the treasures display wall.
Along with thousands of maps digitised from our collections in our map images website, researchers can access the legal deposit mapping portal — material that is only made available via legal deposit libraries.
eResources and electronic legal deposit material
You can use hundreds of thousands of newspapers, ebooks, ejournals, reference works and databases at Kelvin Hall, including resources that help with family history research. If you have a residential address in Scotland, you can register online to use some of the eResources outwith the Library.
When using our search service Library Search, you may come across a message that indicates that the item is legal deposit material. In Kelvin Hall you can consult this material, which is only made available via legal deposit libraries, once you agree to the legal deposit terms and conditions.
Moving Image Archive research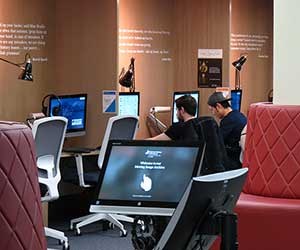 Research booths provide access to
a vast range of electronic resources.
You need an appointment to consult the Moving Image Archive paper archive – and you must join the Library to use this part of the collection. If you do not have a Library log in, our staff will take you through the registration process.
To make an appointment, email kelvinhall@nls.uk or phone 0141 880 2329.
The discovery space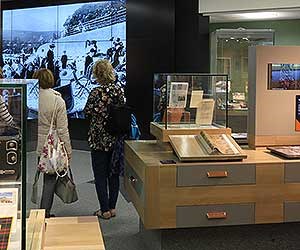 Our discovery space in Kelvin Hall
includes a video wall.
The discovery space at Kelvin Hall presents a mirror of Scottish life past and present and covers the whole of the country.
Items are on display here from our collections. Mostly Scottish, some will be familiar, while others may be unexpected.
Reproduced in the space is a selection of treasures from our manuscript and printed collections, ranging ranging from the 16th to the 20th centuries. Scottish history, art, politics and ingenuity are represented, providing a glimpse of the diversity and depth of collections at the Library.
Two large discovery chests illustrate the richness and variety of 20th-century Scottish life. Together they take a number of themes – fun, home, work, place – with printed items, film clips, and objects gathered together to provoke memories or surprise.
Along one wall are objects relating to the history of film-making and cinema-going in Scotland. On display are film strips, film reels and cans, posters, etc. – and the Oscar presented for the award-winning film 'Seawards the Great Ships'.
We also have a small display of historic projectors and other film equipment seen elsewhere in the space.
Visiting us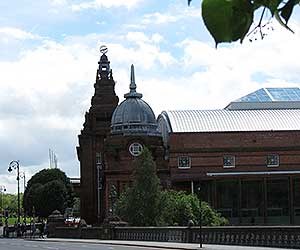 We encourage you to wear a face covering when visiting the Library, especially in busy spaces.
Please do not visit the Library if you are feeling unwell.
Opening hours
The National Library at Kelvin Hall, including the Moving Image Archive, is open during the following hours:
Tuesday, Thursday, Friday and Saturday: 10am to 5pm
Wednesday: 1:30pm to 8pm.
Moving Image Archive office hours – Monday to Friday: 9am to 5pm.
Enquiries
Staff are on hand at the information desk to help you get the most out of our collections and services. We can also help you register to consult the Moving Image Archive paper archive or for remote access to our eResources.
Tel: 0141 880 2329.
See separate contact details for the Moving Image Archive.
Additional