With a library card you can use the National Library of Scotland's reading rooms in Edinburgh. Because we are not a lending library, you have to consult material in the reading rooms or, where available, online. 
We have three reading rooms in two buildings. We keep books and journals in both buildings and transfer them on request to the appropriate reading room by a regular van service.
We encourage you to preorder material where appropriate. There is information about this in each reading room section in this part of the website, including details of delivery times.
George IV Bridge Building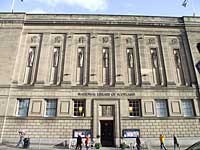 General Reading Room — for journals, newspapers, and most post-1850 printed books not covered by the specialist reading rooms.
Special Collections Reading Room — for manuscripts, music and rare books (pre-1851 printed books and all printed books in special collections).
Discovery Room —

 has a group working space and facilities to consult

microforms and multimedia.
Maps, atlases, gazetteers, and cartographic reference books can be accessed in the Maps Reading Room at our Causewayside Building.
Access to the General Reading Room and the Discovery Room is by stairs or lift, and access to the Special Collections Reading Room is by lift only. For more information, please consult our page about accessibility and facilities.
For new readers we offer a basic induction session on the George IV Bridge Building reading rooms and organise regular workshops.
Additional