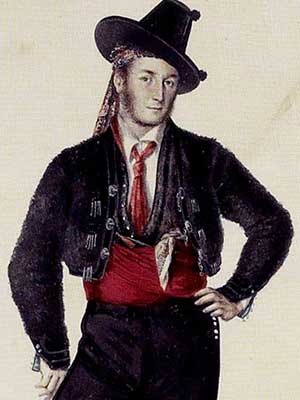 Perhaps the most famous of 'Murray's Handbooks for Travellers' was the volume for Spain by Richard Ford.
Ford was an art connoisseur and writer famed for his knowledge of and passion for Spain.
He lived in Spain with his family for three years in the 1830s. There he rode some 2,000 miles, immersing himself in Spanish life and culture. As well as writing many notes he also sketched and drew many scenes.
'Handbook for Travellers in Spain'
Many years after leaving Spain Ford wrote 'Murray's Handbook for Travellers in Spain' (1845).
Ford's friends advised him to pull the first edition of his Handbook from the press and suppress it. They feared his descriptions of Spain's ruin by the French wars might cause offence to French and Spaniard alike.
When the book was finally published it was recognised as one of the most comprehensive and accurate accounts of the country.
Murray's Spanish expert
Ford became Murray's Spanish expert, writing 'Gatherings from Spain' (1846) and many articles for the 'Quarterly Review'.
He also a keen promoter of writers on Spain, including George Borrow, whose books 'The Zincali' (1841) and 'The Bible in Spain' (1843) were published by Murray.