Community learning activities from the Moving Image Archive include creative projects and screenings.
We are keen to support community learning initiatives involving archive film. We can offer expert guidance to help people explore our collections for the first time.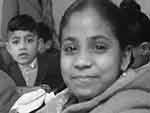 For advice about using our films in community projects, please contact us using the online enquiry form
For general screening enquiries and hires, including information about copyright, formats and licences, see 'Using footage'.
Presented film shows
We present film shows to societies and organisations around Scotland and further afield. These provide an insight to Moving Image Archive collections and are delivered by our curators.
We can tailor shows to specific themes or specialist interests.
Our speakers are very popular, so make sure to book well in advance.
Contact us for more information about learning activities, use of films, and how to book.