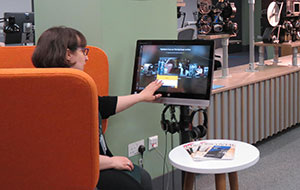 The Moving Image Archive is located at the National Library at Kelvin Hall in Glasgow.
There is no need to join the Library to visit us at Kelvin Hall, but to access some Moving Image Archive services please contact us in advance.
Moving Image Archive at Kelvin Hall
Film and cinema discovery area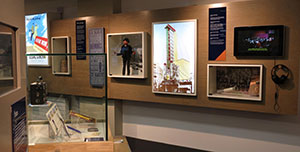 Film and cinema artefacts
in the discovery area
As well as a 12-screen video wall playing highlights from the archive, the discovery area has a wall devoted to the history of film-making and cinema going in Scotland. Cinema posters, vintage cameras and other artefacts from the Moving Image Archive are displayed together.
You can examine film reels and see the Oscar statue won by the film 'Seawards the Great Ships'.
A varied events programme is hosted in the space including screenings of highlights from the Archive in the CINE[THESIA] film club.
Themed videos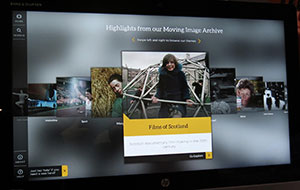 Themed video packages on
one of the interactive touch screens
Our interactive touch screens have a range of themed video packages for you to view. Specially compiled by community groups, external experts and our own curators, these packages bring together some of the best films from the archive. Packages include sound recordings as well as moving images.
Glasgow themed video
A popular themed video package is all about Glasgow. This features films about Glasgow from 1902 to 1985 and shows how the city has changed through the decades.
'Glasgow trams' is one of the films included in the Glasgow package. It was made by renowned film company Mitchell and Kenyon. This film gives a fascinating picture of transport in the city at the start of the 20th-century and can be viewed via the online catalogue.
'Glasgow' is another early colour film from the package. Produced in the 1950s it offers a nostalgic perspective of Glasgow. Many of Glasgow's famous landmarks are featured in this short film.
Our 'Music Hall and Variety' package is also popular as it features sound recordings as well as films. Scottish islands and coasts, sport, fashion and transport are just some of the other themed packages available.
Themes change throughout the year with new footage being added continuously. If you have a specific area of film interest and would like to contribute to these video packages please contact us.
Thousands more films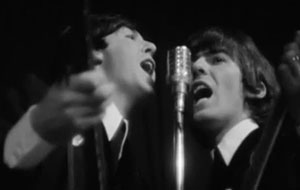 'The Beatles in Dundee' (1964) produced
by Grampian Television is one of the
films you can only see onsite
You may have already explored the films available through our Moving Image Archive catalogue, but the films available remotely are only a small part of our digital films collection.
There are even more films available to view onsite at Kelvin Hall. Searching the catalogue using our computers, you can access footage which is unavailable remotely, including vintage films from Grampian Television and Scottish Television.
Specially adapted viewing rooms
One of the viewing rooms in use
We offer cutting-edge facilities for viewing films in a range of analogue and digital formats, to support broadcast work and film research.
The rooms are various sizes to accommodate different groups, and have multi-screens for professional viewing of a range of formats including Blu-ray, DVD, VHS and Digibeta.
If you would like to book one of our viewing rooms please contact us.
Written archives and reference collection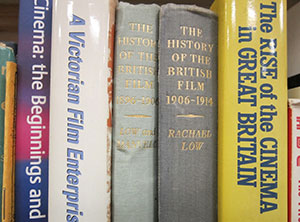 Reference books from the collection
In addition to thousands of films, the Moving Image Archive also has a written archives and reference collection.
This collection includes records, posters, programmes, scripts, and photos as well as reference books.
If you would like to consult these materials for your research please contact us.
Additional