The National Library has a large collection of United States federal government information, received under an exchange arrangement with the Library of Congress from 1950 to 1994. We received approximately 10% of the USA's monthly output of official publications.
The collection is incomplete, and a great deal of it has not been catalogued. Please contact the Official Publications Curator with any questions about our United States official publications holdings.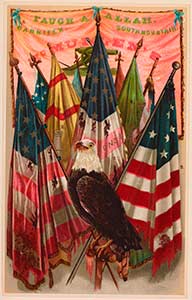 Famous Union battle flags.
A growing amount of material is now available online in full text, including: